The GIST: The Hub's football and fútbol teams are helping us kick off Monday on a high note. The Patriots escaped with a close win over the Arizona Cardinals and the Revolution marched onward in the MLS playoffs.
November 30, 2020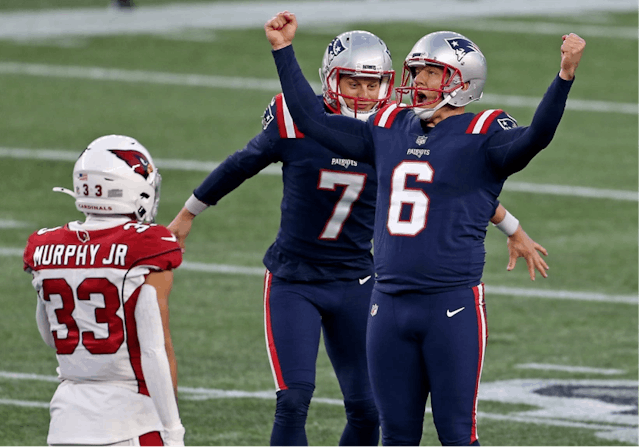 SOURCE: MATT STONE/MEDIANEWS GROUP/BOSTON HERALD
🏈Cue Folklore: It didn't look good for the Pats early, but their goal-line stand at the end of the first half turned the tide. RB James White's second touchdown of the game (and season) gave the Pats their first lead of the game.
In the last play of the game, kicker Nick Folk came in clutch with the game-winning field goal, successfully wiping away a potentially costly interception thrown by QB Cam Newton, whose outfit was more fire than his play yesterday.
After the game, head coach Bill Belichick finally acknowledged that his son Steve was calling the defensive shots. But with former Pats' defensive coordinator Matt Patricia available (he was recently fired as the Detroit Lions' head coach), will we see him return to the New England sideline?
⚽️Revving up: For the first time since 2014, the Revolution are headed to the Eastern Conference finals! The Revs' magical playoff run continues, following up their first-round upset of the top-ranked Philadelphia Union with yesterday's 3–1 victory over Orlando City SC. Goalkeeper Matt Turner's save in the 74th minute prevented Orlando from tying the game. Huge.
The Revs' offense wasn't too shabby either. Midfielder and captain Carles Gil (pronounced CAR-LESS HEEL) opened the scoring, and forward Gustavo Bou (pronounced BOH) chipped in with two goals of his own while paying tribute to his countryman, the late Diego Maradona. Touching.