The GIST: The robot, the macarena...the worm? Whichever they choose, our Philly schools have moves and are ready to bust 'em out at the Big Dance.
March 17, 2021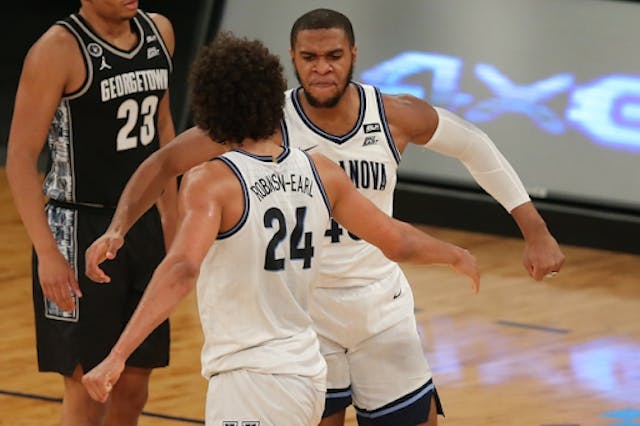 Source: Brad Penner/USA TODAY Sports
'Nova Nation: The 5-seed Wildcats have a storied March Madness history with three National Championships, including their as a No. 8 seed. This Cinderella story still holds the record for lowest seed to ever win the title. Never count out the 'Cats.
The team needs some of that '85 magic this year as they enter the tournament without co-Big East Player of the Year Collin Gillespie. His season earlier this month. Tragic.
Thankfully, guard Justin Moore is back after suffering a severe ankle sprain and is ready to help high-scoring forward Jeremiah Robinson-Earl show the NCAA what they've got.
The Wildcats open the tournament against the Big South Conference champion and No. 12 seed Winthrop Eagles in the first round on Friday. The Eagles have lost only one game this season, but the 'Cats are ready to make it two.
Do it like Drexel: This is Drexel's fifth-ever March Madness appearance and their . The No. 16 seed Dragons have a first-round face-off against the No. 1 seed U of I Illini, whom many bracketeers consider a strong contender for the title. Sounds like a job for a fairy godmother.
Drexel guard Camren Wynter leads the team in average points per game, but sophomore forward Mate Okros has gotten hot lately, leading the team with 14 points in their conference championship win. Catch them at tip off on Friday at 1:15 p.m. ET.