Pandemic is affecting fans and start dates for college basketball and football.
September 10, 2020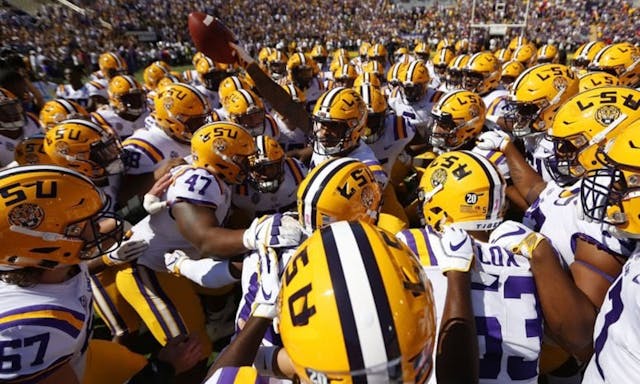 SOURCE: JONATHAN BACHMAN/GETTY IMAGES
The GIST: This week finally brings the first games featuring teams from the still-competing Power Five conferences, but COVID-19 continues to impact college football (unsurprisingly) and is already stirring up drama ahead of the upcoming college basketball season.
What's the latest?: A handful of upcoming games have been postponed due to COVID-19 outbreaks. Tulsa and Oklahoma State pushed their game back a week because Tulsa felt unprepared to play due to practices being canceled...as a result of COVID-19 cases. We're sensing a theme here.
In additional concerning news, Oklahoma head coach Lincoln Riley announced that the Sooners will no longer be releasing COVID-19 case numbers, citing a potential "competitive disadvantage." Sketchy.
Any more news on fans?: Defending national champion LSU announced on Wednesday that they'll allow the stands to be filled to 25% capacity for home games this season. LSU thankfully ruled out tailgating for this year, but 25% capacity still means nearly 26,000 (!!!) fans will be permitted at Tiger Stadium. TBH, we freak out when we see a crowd while rewatching New Girl, so this will be interesting to watch live.
What's the basketball update?: In a move that hopes to "celebrate basketball" and avoid non-conference games amid COVID-19 uncertainty, all 15 ACC men's basketball coaches unanimously voted to admit all eligible Division 1 teams to the 2021 NCAA tournament. If their proposal is accepted, 346 teams would compete in what would need to be a totally restructured tournament. Taking March Madness to a whole new level.
We can expect more college basketball news soon. The NCAA Division 1 Council is scheduled to meet next week to discuss start dates for the men's and women's seasons. Mark your calendars!