NCAA football Week 12 recap
November 21, 2022
No. 17 UCF falls to SEC-basement squad Vanderbilt notching their second conference win (sorry, Gators).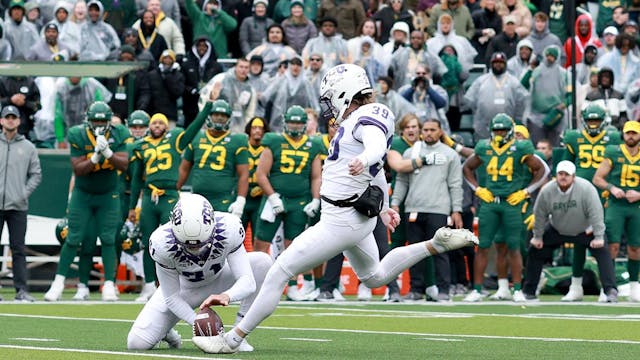 SOURCE: TOM PENNINGTON/GETTY IMAGES
The GIST: It may be Week 12, but Division I (DI) football is everything but predictable. From then–No. 17 UCF falling to lowly Navy to SEC-basement squad Vanderbilt notching their second conference win (sorry, Gators), this weekend was shock and awe.
Contenders (barely) cling on: The nation's four undefeated teams all remain as such, but damn, did they snatch dubs from the jaws of defeat. The No. 1 Georgia Bulldogs bested the Kentucky Wildcats 16–6 thanks only to a Wildcat offense that struggled more than the 'Dawgs, and No. 2 Ohio State required a substantial second-half rally to top Maryland 43–30.
Pac-12 CFP hopes still alive: Saturday's Battle of LA featured a quarterback (QB) who came in clutch and one who notched one too many mistakes. Then–No. 7 USC QB Caleb Williams put up a series-record 502 yards while then–No. 16 UCLA QB Dorian Thompson-Robinson had four turnovers, including the game-sealing final interception.
With the 48–45 W, USC clinched a spot in the Pac-12 title game and a No. 5 poll ranking…achingly close to the magical postseason Top 4. Rising at the right time.
Third-string who? Now–No. 18 UNC began Saturday's game with an unbeaten ACC record, Heisman contender Drake Maye at QB, and a 17–0 run, but that's where the Tar Heels' good news — and scoring — stopped. UNC ended the game with Maye failing to score a TD, and the Georgia Tech Yellow Jackets posting 21 points to nab the dub.
Most impressive? The Yellow Jackets did it with third-string QB Zach Gibson since their QB1 and QB2 suffered season-ending injuries earlier this year. All guts, all glory.
Hard fall for Rocky Top: While the story may be now–No. 9 Tennessee's big tumble, the author is definitely South Carolina QB Spencer Rattler, who played the game of his life on Saturday. Rattler threw a career-high six TDs in the Gamecocks' 63–38 stunner of a win, marking the first time ever that an unranked team has posted over 60 points against a Top 5 opponent.
To add another blow to Tennessee, Heisman-contending QB Hendon Hooker suffered a late-game injury, tearing his ACL and ending his season. Hate to hear it.
FCS sets championship bracket: The FBS may be stingy with just four teams vying for the natty, but the FCS, which wrapped up regular season play on Saturday, dropped its 24-squad championship bracket yesterday. Leading the pack? Top-seeded South Dakota State, followed by No. 2 Sacramento State, No. 3 North Dakota State and No. 4 Montana State.
The tourney's first round kicks off next weekend, with the championship game set for January 8th. More DI football? Yes, please.