The GIST: Apart from Sarah Fuller making herstory, college football gave us a status quo weekend, as the top eight teams remained unchanged for a fourth straight week. But college hoops did not disappoint, with upsets and huge blowouts in the first week of play. Now that's what we've been looking for.
November 30, 2020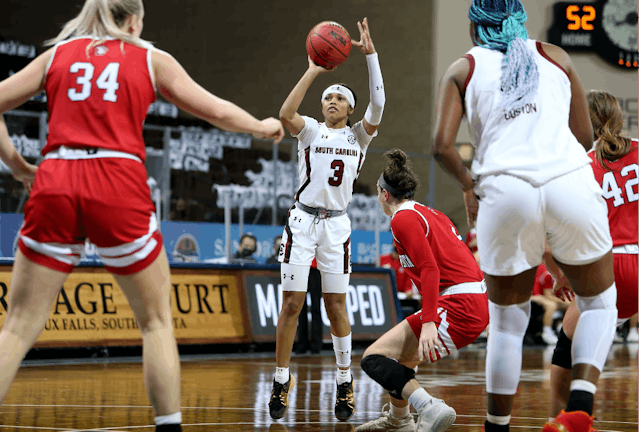 SOURCE: SOUTH CAROLINA GAMECOCKS ATHLETICS
Tell me about the upsets: On the men's side, No. 3 Villanova, No. 4 Virginia and No. 10 Kentucky all suffered losses at the hands of unranked teams. Womp womp.
Villanova's overtime (OT) loss to Virginia Tech, played at Mohegan Sun's "Bubbleville," was the most thrilling of the upsets, with the Hokies holding strong against the Wildcats' late-game comeback attempt. Time to get'cha head in the game, Nova.
And what about the blowouts?: For the women, South Carolina wasted no time fulfilling their preseason No. 1 ranking, absolutely routing the College of Charleston 119–38 (not a typo!) in their season opener last Wednesday. The undefeated Gamecocks continued their dominance yesterday with a 79–72 win over No. 21 Gonzaga.
No. 2 Stanford put up jaw-dropping numbers of their own, earning a 108–40 victory over Cal Poly to open their season. The Cardinal aren't scheduled to face a ranked team until the end of next month. Looks like it'll be a long December for their opponents…

And after a positive COVID-19 test paused team activities for at least two weeks, No. 3 UConn is aiming to break free and restart practice on December 8th, ahead of their season opener vs. Butler on December 15th. Fingers crossed!