The GIST: We'll be blunt, Texas is a political dumpster fire right now. Enjoy this Dallas sports distraction and thank you for supporting women in sports amidst all of this.
May 25, 2021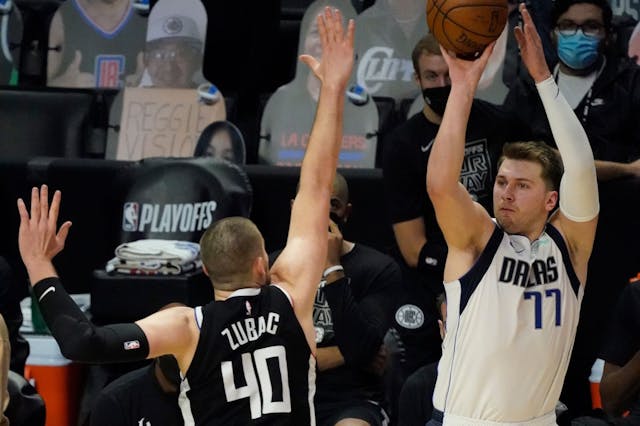 Source: Robert Hanashiro/USA TODAY Sports
🏀Mavericks: One down, three to go. Behind a from Luka Doncic (his third playoff triple-double in just seven games) and 21 points from Tim Hardaway Jr., the Mavs started their postseason run with a 113–103 win over the LA Clippers on Saturday. Game 2 tips off tomorrow night at 10:30 p.m. ET/9:30 p.m. CT. We agree, Luka. .
🏀Wings: Saturday was not as kind to the Wings, who suffered a 100–97 overtime loss to the Seattle Storm, but this young squad still put the league on notice. Marina Mabrey scored a career-high 26 points while Isabelle Harrison and Kayla Thornton notched .
Next up, the Wings are in the Big Apple for tonight's 7 p.m. ET/6 p.m. CT battle with the surging NY Liberty.
⚾️Rangers: So nice he had to do it twice. After belting a home run in Friday's 7–5 10-inning win over the Houston Astros, Adolis García did it again yesterday with a walk off single in the 10th, lifting his team to a 3–2 win and the series sweep.
The Rangers take their three-game win streak west for tomorrow's 9:38 p.m. ET/8:38 p.m. CT matchup with the LA Angels.