The GIST: To celebrate our expansion to Dallas, the Cowboys are one win out of first place in the NFC East and the Mavericks begin their season on Wednesday. A welcome present, indeed!
December 21, 2020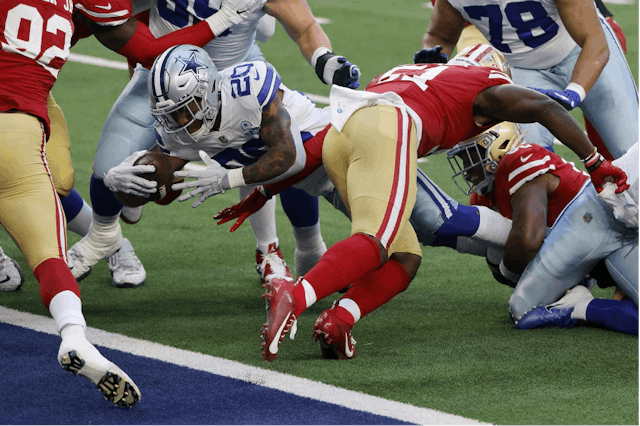 SOURCE: RON JENKINS/AP PHOTO
🏈Cowboys: The Cowboys took down the San Francisco 49ers in a 41–33 thriller yesterday. RB Tony Pollard scored two touchdowns, stepping up in the absence of an injured Ezekiel Elliott and leading the 'Boys to their first back-to-back wins of the season.
The win kept Dallas' playoff hopes alive in a suddenly exciting NFC East title race. It'll take the Cowboys winning both of their remaining games and the WFT losing both of theirs...but we're saying there's a chance.
🏀Mavericks: The Mavericks open the regular season on the road Wednesday, taking on the Phoenix Suns at 10:30 p.m. ET/9:30 p.m. CT. All-Star Luka Dončić (pronounced DON-CHITCH) already won a FIFA bet (and the internet) against teammate Jalen Brunson, and we expect him to keep up the momentum against the Suns.
Dončić and co. dazzled during their postseason appearance in the bubble, their first since 2016. With Luka contending for MVP and Kristaps Porziņģis expected to return from injury in January, we have high hopes for the hardwood.