Steelers top Eagles, Union win first home game in front of fans this season.
October 12, 2020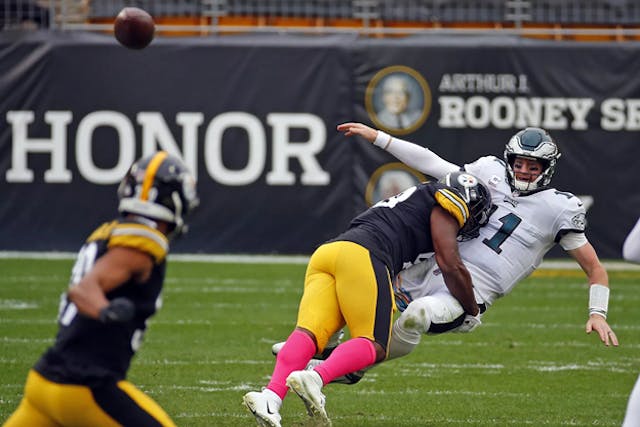 Source: Justin K. Aller/Getty Images
The GIST: Even though the Eagles showed signs of improvement, the Pittsburgh Steelers handed them their third loss yesterday. The good news? The Union earned a win in their first game in front of fans this season.
🏈Close doesn't count: The Eagles 29–38 to the Steelers yesterday, dropping to 1-3-1. It was a scoring showdown until Philadelphia's offense fell apart in the fourth quarter. After failing to score just yards from the end zone, the Eagles' next two possessions featured kicker missing a desperate 57-yard field goal attempt and throwing an interception.
Fresh faces: Despite the loss, the Eagles finally looked like a halfway-decent football team this week. They had a tough task against the Steelers, who remain undefeated and boast one of the strongest defenses in the league. Receiver stepped up in key moments again this week, scoring a touchdown early in the fourth quarter to cut the Steelers' lead down to two. Fulgham recently graduated from the practice squad to the roster and is already proving to be an invaluable offensive weapon with 10 catches for 152 yards yesterday.
Fulgham and the Birds will face the Baltimore Ravens next, and it'll be another uphill battle.
⚽️On the pitch: The Union won last night's matchup against the Montreal Impact 2–1, improving their record to 10-3-4. With back in the stands, the Union put on a show with goals by midfielder and forward . The Union will face D.C. United on Wednesday at 8 p.m. ET.