The GIST: First place in the NFC East, baby! The Washington Football Team (WFT) held on for a 23–15 victory over the San Francisco 49ers yesterday.
December 14, 2020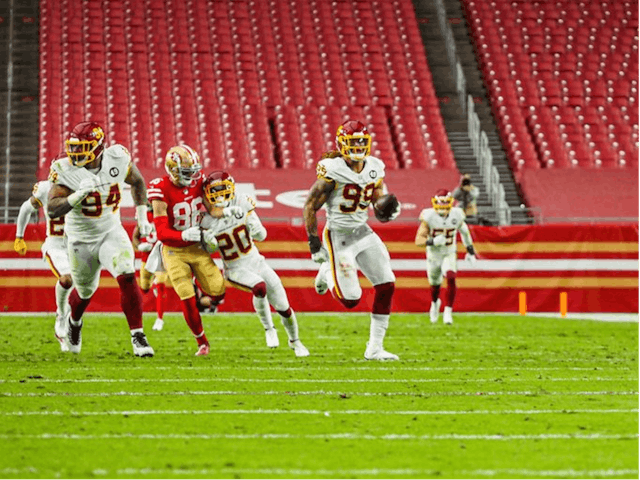 SOURCE: WASHINGTON NFL/TWITTER
NFL: The WFT defense paved the path to victory, scoring both of Washington's touchdowns. Rookie defensive end Chase Young picked up a scoop-and-score, earned a sack and forced a fumble, becoming the first player in franchise history to complete the trifecta. Rookie safety Kamren Curl kept the party going with a pick-six. Phenomenal.
As for the offense, injury concerns reign supreme. Rookie running back Antonio Gibson missed yesterday's game with a turf toe injury and quarterback (QB) Alex Smith left the game with calf tightness.

After the NY Giants lost to the Arizona Cardinals yesterday, the 6-7 WFT are now solely in first in the NFC East. The race is on.
College: Virginia football concluded their regular season on Saturday with a 33–15 loss to rival Virginia Tech. And there won't be a postseason for Virginia: the Hoos announced the team's decision to decline playing in any bowl game. After a long, trying year, we totally understand.