The GIST: The NBA season is only one day old, but the aforementioned Ben Simmons and Philadelphia 76ers drama has been going on since last season.
October 20, 2021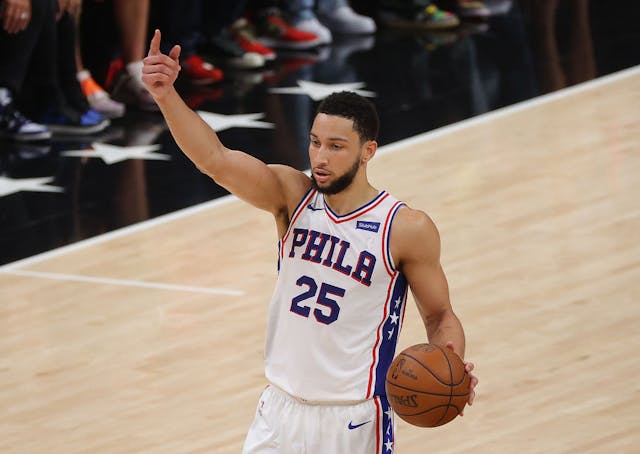 SOURCE: KEVIN C. COX/GETTY IMAGES
The background: Simmons was drafted first overall by the Sixers in 2016, though his off-court demeanor . After starting his NBA career in 2017, Simmons won Rookie of the Year and is already a three-time All-Star.
Despite his usually stellar on-court performance, things took a turn when Simmons had a poor () showing during the 2021 postseason, and teammates and Sixers coach Doc Rivers were openly critical of Simmons' performance.
The latest: Simmons rejoined the team Friday, but his first interactions were tense. During Monday's practice, he barely engaged with his teammates, put little effort into drills, carried a cell phone in his pocket and skipped out on a team huddle.
Yesterday, Rivers had enough. After Simmons refused to join a drill, Rivers threw Simmons out of practice, called him "a distraction" in a post-practice press conference and had him suspended for one game for "detrimental behavior."
What's next?: Simmons will miss tonight's opener against the New Orleans Pelicans — which we're sure his teammates are pretty happy about (exhibit A: Embiid's quote above) — and he'll likely face continued suspensions and/or fines if he doesn't change his tune.
But the biggest consequence? Simmons' behavior is causing his stock to fall, meaning a championship-contending team is pretty unlikely to trade for a guy who's very obviously not a team player. He's only hurting himself.