Overtime upsets and season debuts mark first week back for Big Ten college football
October 26, 2020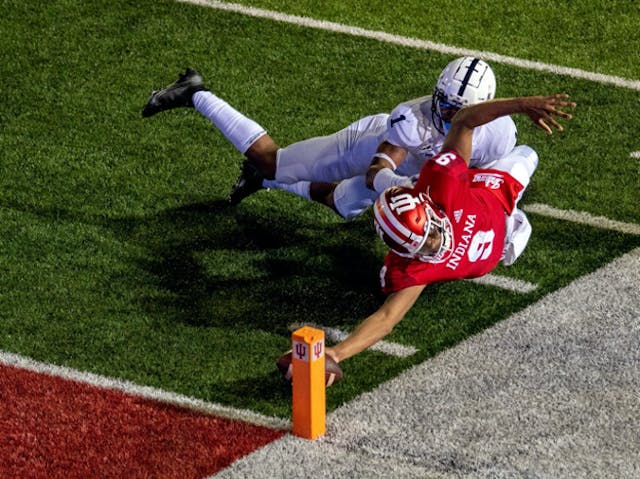 SOURCE: MARC LEBRYK/USA TODAY SPORTS
The GIST: With overtime (OT) upsets and show-stopping season debuts, the first weekend of Big Ten football did not disappoint. Meanwhile, with just under a month out from tip-off of the college basketball season, (bubble!) tournaments are being finalized. Can we get a hell yeah?!
Hell yeah! What happened in the Big Ten?: Highlights from the first weekend include Rutgers snapping a 21-game (!!!) conference losing streak with a 38–27 win over Michigan State. In other upset news, Indiana pulled off a truly wild finish, defeating previously ranked No. 8 Penn State 36–35 thanks to a (somewhat controversial) two-point conversion in OT. It's a game of inches!
To top off a thrilling weekend of on-field action, the Big Ten also made history during Saturday night's Michigan vs. Minnesota game. The primetime contest featured the first-ever all-Black crew to officiate a game in Power Five history. Progress, people!
What about the other conferences?: With most of the other Week 8 games panning out as expected, there wasn't too much disruption in the Top 25 rankings. No. 1 Clemson and No. 2 Alabama both earned commanding, expected victories over unranked opponents to maintain their top spots. Yawn.
And what's the basketball news?: Plans are being finalized to host some early nonconference games in a bubble at the Mohegan Sun Casino in Connecticut from November 25th to December 5th. Over 30 women's and men's teams — including powerhouses like the UConn women's team and the preseason favorite Baylor men — will enter what organizers are calling "Bubbleville" (how...creative).