🏀

Chicago Sky move on to the WNBA finals

October 08, 2021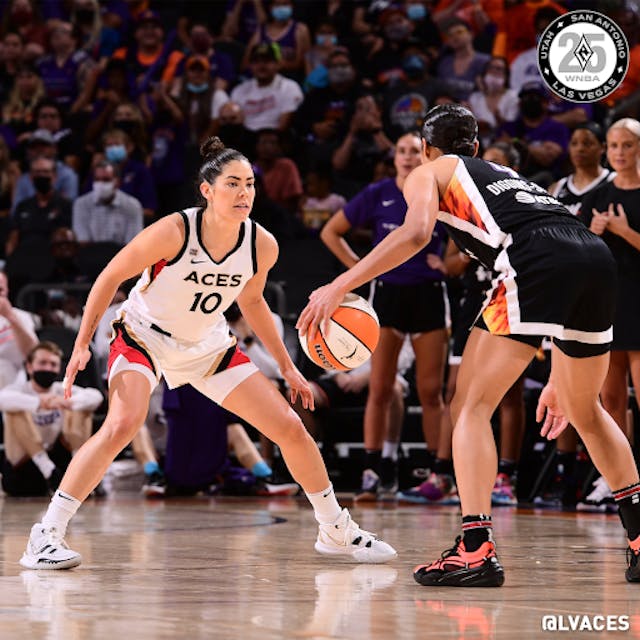 Source: Photo by Lindsey Wasson/Getty Images
Game 5: Tonight's matchup between the Las Vegas Aces and the Phoenix Mercury is for all the marbles. The No. 5 Mercury led the series 2-1 going into Game 4, but the No. 2 Aces showed total dominance, winning 93–76. Guard Chelsea Gray had 22 points as one of four Aces players who scored double digits.
Given the back-and-forth nature of this series, tonight's game is impossible to predict, but there is one key factor missing: starting Mercury guard Kia Nurse after suffering a knee injury in Game 4.
Watch this one on TSN4 at 9 p.m. ET. Not not stressing.
Watch this one on ESPN2 at 9 p.m. ET. Not not stressing.
The Finals: With the No. 6 Sky as the lowest ranked team still in the postseason, whoever wins tonight will host the first two games of the Finals, set to begin Sunday at 3 p.m. ET.
Game 2 is scheduled for October 13th, and the rest of the best-of-five series will happen every other day after that. Yes, your calendar is booked.
🏈

Week 5 updates from the NFL

October 06, 2021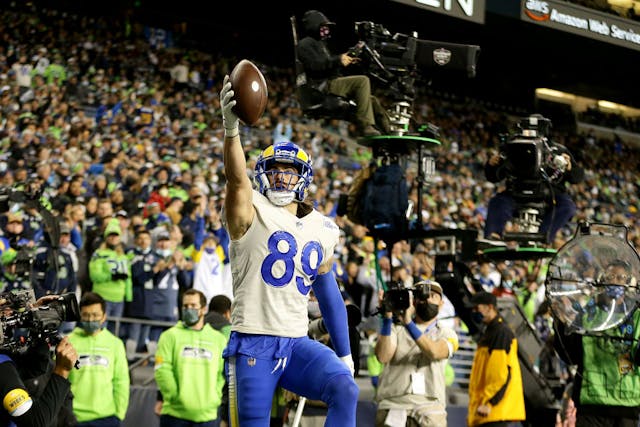 Source: Photo by Lindsey Wasson/Getty Images
NFL: The LA Rams kicked NFL Week 5 off with a bang, defeating the Seattle Seahawks 26–17 on Thursday Night Football. After a slow start, the Rams scored two touchdowns in the third quarter en route to the win. As for Seattle, quarterback (QB) Russell Wilson left the game with , adding insult to...injury.
College football: Another week, another packed slate of key matchups. Kicking things off tomorrow at 12 p.m. ET is the "," which features No. 21 Texas vs. No. 6 Oklahoma. Oklahoma has won the last three matchups, and they look poised to make it four with candidate QB Spencer Rattler leading the way.
Then at 4 p.m. ET, two unbeaten teams — No. 4 Penn State and No. 3 Iowa — go head-to-head. Someone has to lose, and these teams are so evenly matched that we're not sure who it'll be. A must-watch.
Hungry for more? Feast your eyes on the , where the losing team must serve their opponent a postgame barbecue meal. Order up!
⚾

Wild Card single elimination begins in the MLB

October 06, 2021
Source: Rob Tringali/MLB Photos via Getty Images
American League (AL): Last night's AL Wild Card game was a battle between two bitter rivals — the Boston Red Sox and the NY Yankees — and the Red Sox prevailed, beating the Yankees 6–2. Boston shortstop Xander Bogaerts got things started early with a in the first inning and the Sox never looked back.
Next up in the AL, Boston will face the Tampa Bay Rays in a five-game divisional series (ALDS) beginning tomorrow at 8:07 p.m. ET.
The other ALDS between the Chicago White Sox and Houston Astros also begins tomorrow, but a bit earlier at 4:07 p.m. ET.
National League (NL): Tonight's NL Wild Card game features two of the hottest teams in baseball: the defending champion LA Dodgers and the St. Louis "" Cardinals. It also features two veteran pitchers in 37-year-old Dodger Max Scherzer and 40-year-old Cardinal Adam Wainwright. Age is but a number.
⚽

Player's request accepted: Steve Baldwin out Washington Spirit CEO

October 06, 2021
SOURCE: RANDY LITZINGER/ICON SPORTSWIRE VIA GETTY IMAGES
The latest: as the Washington Spirit's CEO (at the ). After helping to foster a toxic workplace during his three-year tenure, including his recent of (now former) abusive coach Richie Burke, Baldwin announced his resignation yesterday.
The context: The resignation came just hours after Alex Morgan, Mana Shim and Sinead Farrelly , where they continued their call for action within the NWSL, as three investigations — from FIFA, U.S. Soccer and the league itself — are now underway.
For more background on this ongoing saga, as well as our own thoughts/feelings/concerns, check out Tuesday's episode of ..
🏀

Game 4 previews of the WNBA Finals

October 06, 2021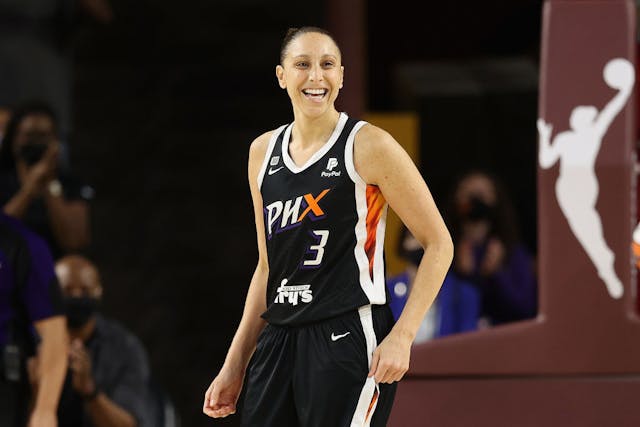 Source: NASCAR on NBC/Twitter
No. 1 Connecticut Sun vs. No. 6 Chicago Sky: These teams are way more balanced than the rankings show, with the league-best Sun losing by just three points in a hard-fought Game 3. So don't be fooled: the Sky, who are leading this series 2-1, have all the tools to take tonight's game — and the series — from the Sun.
No. 2 Las Vegas Aces vs. No. 5 Phoenix Mercury: We heard you like underdogs, so here's another. The lower-ranked Mercury are also leading their series 2-1, and will actually get to host tonight's potentially series-ending game in their home arena, the Footprint Center.
The NBA's Phoenix Suns originally had a preseason game scheduled at the same time at their shared home, but they moved their match to earlier in the day to instead lead a double-header. We love to see it.
Off-court: The NY Liberty's Michaela Onyenwere (pronounced own-yen-WEH-ray) was named Rookie of the Year yesterday, as the league announced its full All-Rookie Team. Onyenwere's teammate DiDi Richards, Atlanta Dream's Aari McDonald, the Sky's Dana Evans and No. 1 draft pick Charli Collier of the Dallas Wings rounded out the roster. Stars in the making.