⚾

Latest from the MLB World Series

October 27, 2021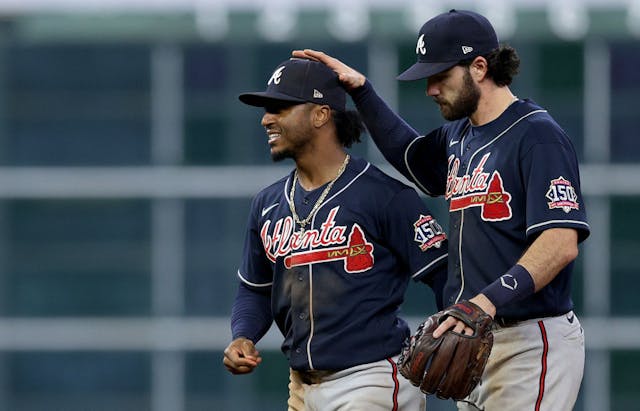 SOURCE: ELSA/GETTY IMAGES
Game 1: Despite losing star pitcher Charlie Morton to a (ouch), last night's Game 1 was all Atlanta Braves. They scored two runs in the first inning and never looked back, winning 6–2 to jump out to an early series lead over the Houston Astros.
Game 2: First pitch is tonight at 8:09 p.m. ET. Atlanta's star pitcher Max Fried (who uncharacteristically struggled in his last outing) will face Houston's José Urquidy (who also underperformed the last time he pitched).
🏀
🏒
⚽
Sports Quick Hits: October 27th, 2021
October 27, 2021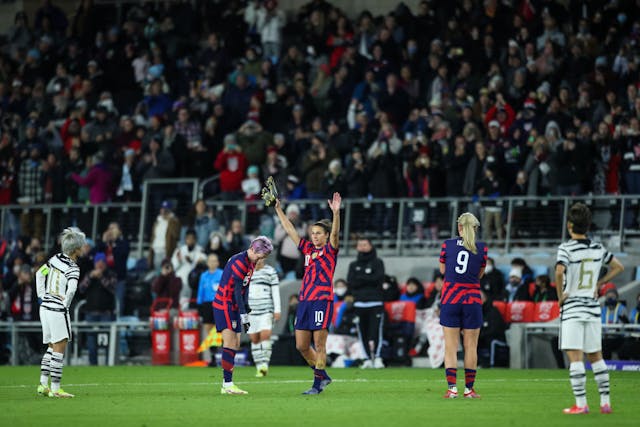 Source: David Berding/Getty Images
⚽️USWNT: In the final game of Carli Lloyd's incredible 17-year USWNT career, her teammates stepped up to send her off with a win. Lindsey Horan ( in the future) opened the scoring in the ninth minute of the squad's 6–0 victory over South Korea. .
🎓🏀College basketball: The season tips off in just 13 days, and UConn's Paige Bueckers (pronounced BECK-ers) is already making headlines. Bueckers was unanimously voted to the AP's , with Iowa's Caitlin Clark, South Carolina's Aliyah Boston, Baylor's NaLyssa Smith and Kentucky's Rhyne Howard rounding out the squad.
⚽️NWSL: New stadium, who dis? Kansas City NWSL (who'll finally have a on Saturday) plans to build a $70 million, 11,000 seat stadium — the first top-division facility built specifically for a NWSL team — with opening slated for 2024. The countdown is on.
🇺🇸🏒Hockey: Don't panic, but Team USA women's hockey lost to Team Canada for the fourth straight game on Monday, in their second of nine exhibition games against each other. And as if this rivalry wasn't already spicy enough, the squads exchanged words (!) post game. Now we'll wait until to watch them hunt for redemption.
🏎
🏈
⛳
🏒
Sports Quick Hits: October 25th, 2021
October 25, 2021
Source: Mark Thompson/Getty Images
🏁Racing: Everything's bigger in Texas, including margin of victory. The Brit claimed her second consecutive title with a dominant first-place finish at the Circuit of the Americas this weekend.
⛳️LPGA: , but South Korea's Jin Young Ko held on to win the BMW Ladies Championship yesterday, with a playoff hole victory over compatriot Hee Jeong Lim. With the win, Ko is expected to overtake American Nelly Korda and become the new world No. 1.
🎓🏈College: Five ranked teams lost in Week 8, bringing some movement in the new . The wildest game of the week? Unranked Illinois' nine overtime (not a typo!) over previously ranked No. 7 Penn State. We're tired just thinking about it.
🏒Hockey: In the first of nine USA vs. Canada tuneup games leading up to the Beijing Olympics, Team USA women's hockey lost 3–1 to Canada on Friday. Fortunately, the squad's back in action tonight at 7 p.m. ET. Sounds like redemption to us.
🏈

Week 7 highlights from the NFL

October 25, 2021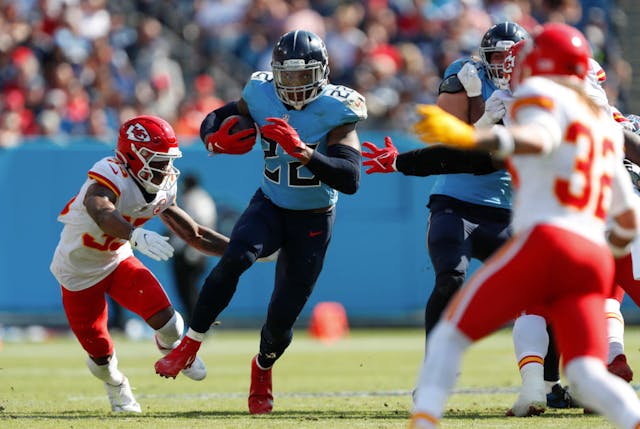 Source: Wesley Hitt/Getty Images
Sunday's highlight: Tennessee Titans running back (RB) Derrick Henry threw (yes, threw) (TD) to tight end (TE) MyCole Pruitt in the Titans' 27–3 win over the (surprisingly 3-4) Kansas City Chiefs. They don't call him King Henry for nothing.
Injury report: In other Kansas City news, quarterback (QB) Patrick Mahomes exited the game in the fourth quarter after a scary . Elsewhere, NY Jets QB Zach Wilson left with a knee injury in the second quarter of his squad's lopsided loss to the New England Patriots.
Achievement alert: Another week, another milestone for QB Tom Brady. Brady became the first NFLer to ever throw 600 TDs with in his Tampa Bay Buccaneers' 38–3 rout of the Chicago Bears. The GOAT keeps GOATing.
Just keep winning: The Arizona Cardinals remain undefeated thanks to yesterday's 31–5 win over the Houston Texans, and Cards TE Zach Ertz already has his with his new squad after being traded from the Philadelphia Eagles earlier this month.
Tonight: There's more Week 7 fun where that came from. Wide receiver DK Metcalf and the Seattle Seahawks host RB Alvin Kamara and the New Orleans Saints tonight at 8:15 p.m. ET in a key Monday Night Football matchup.
⚾

MLB World Series matchup draws controversy

October 25, 2021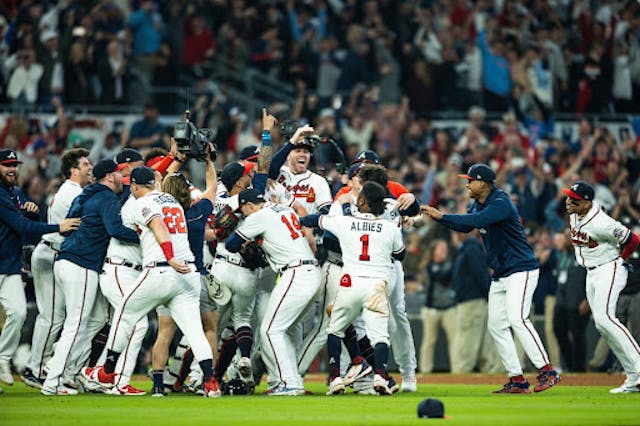 Source: Braves/Twitter
How we got here: On Friday, the Houston Astros eliminated the Boston Red Sox with a 5–0 Game 6 to take the American League (AL) and clinch their third World Series appearance in five years.
On Saturday, the Atlanta Braves won the National League (NL) pennant with their own Game 6 win, sending the defending champion LA Dodgers packing. This is Atlanta's first trip to the World Series since 1999.
The controversy: The Asterisks Astros' reputation is still plagued by the , which led to the firing of their general manager and coach, but saw no punishment for players, including multiple key players who are still on the team.
The matchup: Game 1 is tomorrow at 8:09 p.m. ET and we're expecting an offensive showdown as both teams boast red-hot hitters in AL Championship Series (CS) MVP Yordan Álvarez and NLCS MVP Eddie Rosario.