⚽

Guide to Soccer

March 18, 2020
The GIST
Soccer is played on a field called a pitch with nets on both ends. Each team has 11 players (including a goalkeeper). A game is made up of two 45 minute halves. The object of the game is to score goals by kicking or heading the ball into the other teams' net. The soccer ball cannot be touched with hands or arms unless you're the goalkeeper or completing a throw in. Consequently, the game is known as "football" pretty much everywhere except North America. This name, of course, makes much more sense in comparison to NFL or CFL football, a sport played primarily using your hands. SMH at whoever came up with that name.
How is it organized?
Soccer is a wildly popular global sport mostly due to its accessibility — you literally just need a ball to play it. As a result, almost every single continent has its own professional soccer league (which can get a little confusing). The most popular men's leagues are the English Premier League (EPL), Spanish La Liga and Major League Soccer (MLS). MLS is played in North America.
Unlike other sports with a regular season and playoffs, teams collect points for wins at home or away, and goals home or away, so that at the end of the season a champion can be named. Playoffs start after the season champ is determined. On top of that, because soccer is a worldwide sport, there are huge tournaments where players represent their countries rather than the professional teams they're signed to. These are the World Cup (played every four years) and the Euro Cup (also every four years but in the even-numbered year between World Cups).
Women in Soccer
Unlike men's soccer, which is well established in Europe, women's soccer is most popular in North America. The best league in the world is the National Women's Soccer League (NWSL) with all teams based in the US. Some other leagues include the FA Women's Super League in England and D1F which stands for Division 1 Feminine in France. The North Carolina Courage won the NWHL championship in both 2018 and 2019.
Women's soccer is even more important on the international stage in tournaments like the Olympics and the World Cup. Here at The GIST, we are obsessed with our American women's national team. Most recently they made epic headlines for winning back-to-back World Cups in 2015 and 2019. In fact, dating back to the first women's World Cup, our American squad has never placed worse than third place. Unreal.
Though she is retired, Abby Wambach is the team's all-time top scorer and the leader in the world for international goals scored. More recently, Megan Rapinoe dominated headlines in 2019 for her and vocal fight for , earning her Sports Illustrated honors (an article that is worth every second of your time). Literally unstoppable.
Stuff to Know About Soccer
Soccer is the most popular sport in the world, being played in over 200 countries!
No one knows exactly when soccer was created, but the earliest versions of the game can be traced back 3,000 years. Woah.
Don't get The GIST's free twice-weekly newsletter yet? Let's make it email official.
🏉

Guide to Rugby

March 18, 2020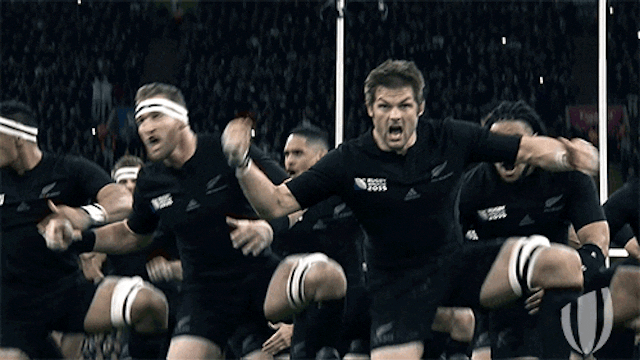 The GIST
Rugby is played on a grassy field (known as a pitch) with 15 players per team. It can, however, also be played with just seven players per team in a version that's called sevens rugby or often just 'sevens' (which made its Olympic debut in 2016). There are also other variations of rugby, including rugby football and Aussie rules, which are most commonly played in Australia.
The scoring system in a rugby match is similar (but not exactly) to good ol' American . Scoring a try is worth five points and occurs when a player touches the ball down in the end zone (similar to football). After every try is scored, the scoring team has the opportunity to kick a conversion (like a field goal) for two extra points. Games are divided into two 40-minute halves and time expires when the ball is "dead" (kicked out of bounds) after the 80-minute mark. In sevens rugby, the games are only seven minute halves because there's a lot fewer players covering the same size of field, and that's just tiring AF!
How is rugby organized?
Rugby has had some trouble gaining a foothold in the American sports market, but MLR (Major League Rugby) is trying to change that. The league formed in 2016 when five amateur teams signed on to start a professional league. Two years later, in 2018, MLR had a multi-year television broadcast deal with CBS Sports Network and hosted its first regular season game on April 21.
This league is the highest level of professional rugby in North America and the league is set to expand in 2020 with three additional teams (Atlanta, Boston and Washington, D.C.) to bring the total to 12. Because of this, MLR will switch to a conference format for the first time in 2020 with a Western and Eastern Conference each consisting of six teams with a scheduling running from February through to the end of June. More on the format . The Seattle Seawolves were the MLR champions in both the 2018 and 2019 seasons.
The best of the best
Rugby is extremely popular in England, Scotland, Ireland, South Africa, New Zealand and Australia. Now, if we had to narrow it down to the two best teams in the world, it would be the New Zealand All Blacks and the South African Springbok. Both teams have won the Webb Ellis Cup (the trophy for the Rugby World Cup title) three times, the most of any team. New Zealand's came in 1987, 2011 and 2015 while South Africa took the Cup in 1995, 2007 and most recently in 2019.
All Blacks stud retired from international play in 2015 but remains the highest point-scorer in test match rugby (a fancy way to say an international match between two senior national teams). Carter still plays club rugby for the Kobelco Steelers in Japan and plays the of center or fly-half. plays for the English national team, as well as the Saracens in London, England. He is one of the best (looking) converters in rugby, with more than 100 successful conversions in international play. Not too shabby!
Didn't your mama tell you not to ruck with a girl?
The US fields both a regular (15 person) and sevens rugby team at the national level. But because sevens is currently the only Olympic sport, it tends to get the most attention outside of big rugby countries like New Zealand and South Africa.
The US women's sevens team has participated in the World Rugby Sevens Series (a series of tournaments where national teams play for points and eventually the World Rugby Sevens title) since its inaugural season in 2012. They're lowest ranking was seventh in 2013-14 and have been as high as second in the world in the 2018-19 season. In that season, scored the most tries (18) and scored the most points (141), so keep your eye on these two rucking awesome ladies.
The US did not medal when rugby sevens made its Olympic debut at Rio 2016, but they'll definitely be looking to capture some hardware at the Tokyo 2020 Games.
And you know we have some trivia…
This is more of a FYI but, you cannot "forward pass" the ball in rugby — it must be thrown backwards to a teammate. However, you can kick the ball forward along the ground and then run to grab it!
The Rugby World Cup (RWC) is hosted every four years. The most recent RWC was hosted in Japan in 2019 (won by South Africa) and the women's is set for 2021. FYI, in a landmark decision in 2019, the Rugby World Cup decided to from its tournament names meaning the 2021 women's edition will be known simply as the Rugby World Cup 2021. #EqualityAF
You don't get to pick your jersey number in rugby because jersey numbers are assigned to specific positions. Example: 9 = scrumhalf, 15 = fullback.
Rugby was invented when William Webb Ellis was playing soccer, caught the ball and ran to the goal while carrying it. Rules are made to broken we guess?

That's #thegist of it!
Written by Guest Writer & Rugby Guru: Victoria Spanton
Don't get The GIST's twice-weekly newsletter yet? Let's make it email official.
🤼

Guide to MMA

March 18, 2020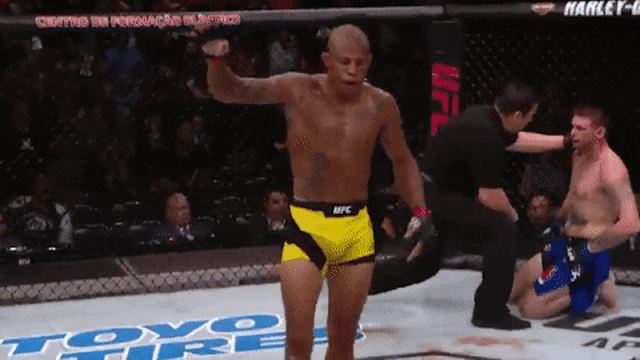 The GIST
MMA stands for Mixed Martial Arts. As the name suggests, an MMA fight can involve many different fighting styles including judo, Muay Thai, Brazilian jiu jitsu, boxing, wrestling, karate and more. Each of these fighting styles has several different forms of striking and grappling — so you're actually watching many different sports in one. More bang for your buck, what's not to love?!
WTF is striking and grappling, you ask? Well, striking is where you use your limbs to hit your opponent.
While grappling involves different techniques like throws, clinches, takedowns, joint locks and chokes in order to control your opponent at close range.
How do you win an MMA fight?
You can win an MMA fight in several different ways. Usually, the goal is to win by either knockout or submission. A knockout is when you render your opponent unconscious by punching or kicking them hard enough. Yeesh. A submission is when your opponent either physically taps your body to let you know that they give up or a verbal tap to the opponent or referee. If there is no knockout or submission, the fight will be decided by the judges who score each round. There are only a few things that aren't allowed during a fight like strikes to the back of the head, eye gouging, hair pulling, etc.
How do they score?
MMA fights are scored based on a few criteria. The most important criteria in a fight is effective striking and grappling. Second, effective aggression, and third, cage or ring control. Rounds are scored out of 10 points, with the winner of a round scoring 10, and their opponent usually scoring eight or nine, depending on how well they performed. While it's theoretically possible for both fighters to score 10 in the same round, it's very rare as they would have had to perform with the exact same effectiveness and impact.
How is it organized?
Leagues
Like other professional sports (football having the NFL and CFL, for example), there are a number of different MMA leagues. We're guessing the first league that comes to mind for you in the UFC (Ultimate Fighting Championship). However, the UFC is not the only company that runs MMA fights, they're just the biggest and richest (like the NFL). There are several other companies like Invicta (which runs exclusively women's fights…love it), Bellator and One Championship that also host MMA leagues. That said, UFC is considered the 'top' league, so it's basically every professional fighter's dream to be signed by them (because there are no teams —players get signed directly with the leagues).
Weight Classes
MMA fights are organized into , so you'll hear a lot about fighters needing to "make weight" for a fight. Often, fighters will fight in a lower weight class than their average day-to-day weight. Why? Because they can manipulate their water weight just prior to the fight to lose a lot of weight quickly (like Channing Tatum in ). Then, as soon as the athlete weighs in just before the fight at their lower weight (each athlete has to weigh in the day before the fight to make sure they meet the rules), they can immediately rehydrate and fight the next day at their usual higher weight. This gives them a potential size advantage. And as they say, the bigger, the better.
Fights
Fights are typically three or five rounds in length, depending on the event or title. Rounds are typically five-minutes long with a one-minute rest period between rounds. We know it doesn't sound like a lot BUT these fights are tiring AF.
The best of the best
The 'best of the best' is whoever is the of their division (aka weight class) at any given time. The winner of a weight class can change any time there's a title fight, which generally happens every few months. A title fight determines who is considered 'champion' of that division. For example, you've probably heard of someone being 'heavyweight champion.'
Some of the best fighters of all time include: Anderson Silva, Fedor Emilianenko, Georges St. Pierre, Conor McGregor and some badass women that we mention below (keep reading). Some people would argue also deserves to be on this "best of the best list", but he's basically failed every drug test he's ever been handed so — v debatable.
The women
The women's division of the UFC is only about ten years old (check trivia below for why that is!). One of the most recognizable names in MMA is because she was the first woman signed in the UFC (back in 2012) and consistently won her fights in spectacular fashion. Rousey was the first American woman to medal in judo at the Olympics, so it's not surprising that she dominated fights with her grappling. Rousey has since moved on from the UFC (she's now performing in the ), so there's a new Queen in town. At the end of 2018, became the first female double champion.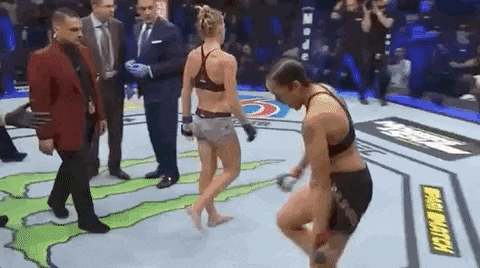 While that's all amazing to see, there's unfortunately still tons of sexism in the fighting world. When asked what advice he would have for women trying to make it in the fighting industry, lightweight champ Khabib Nurmagomedov responded with: "For females, I have very good advice, be fighters at home. And one more advice, all the time, finish your husband." LIKE, ARE YOU KIDDING ME?! Georges St. Pierre (GSP) was once quoted saying that while he can watch a men's fight and admire the technique, he does not watch female fights because he just feels bad for them. We don't want your empathy, dude.
Trivia
The next time you're at a bar and the fights are on, throw one of these facts out and let people bask in the glory of your MMA wisdom...
The oldest UFC fighter to win a title is Randy Couture, who did it at age 45. There is a pretty good chance this record will never be broken.
In 2011, when asked when women would fight in the promotion (the main fight that the league is promoting), Dana White, owner of the UFC (who is a man, don't be confused by the name) responded, "Never." Ronda Rousey was then signed to the UFC in 2012 after Dana took notice of her skills and athletic accomplishments. Get it, girl!
That's #thegist of it!
Written by Guest Writer: Kaeli Sweigard
Don't get The GIST's twice-weekly newsletter yet? Let's make it email official.
🏒

Guide to Hockey

March 18, 2020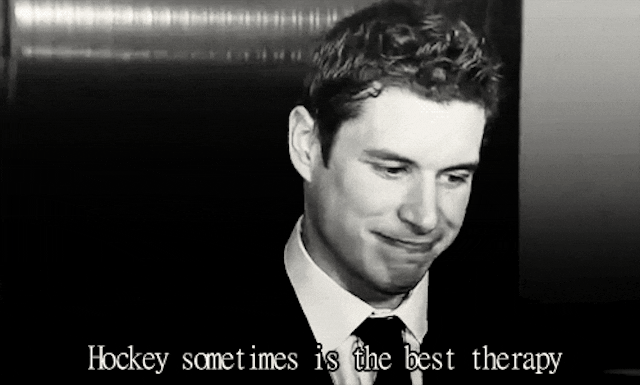 The GIST
The point of the is to have the most goals after three, 20 minute periods of play. Each team has five players (three forwards and two defense) plus one goalie on the ice at a time.
How is it organized?
The most popular hockey league in the world is the National Hockey League, aka the NHL or "chel" if you're a true "hockey beauty" *rolls eyes*. Teams are divided into the Eastern and Western Conferences and are then further divided by divisions. There are 31 teams (until Seattle's expansion team begins its franchise in 2021-22) and 82 regular-season games.
At the end of the regular season, the top three teams in each division and then the remaining top two teams in the conference, regardless of the division (this playoff format is v. controversial because sometimes one division is stronger than the other, meaning that two of the best teams in the conference may have to play each other in the first round) will move on to the playoffs. This means each division will have a minimum of three and a maximum of five teams in the playoffs. The playoffs consist of four rounds of best-of-seven series (teams must win four of the possible seven games to advance) with a chance to win the coveted Stanley Cup aka "Lord Stanley" in the end.
The best of the best
The 2019 Stanley Cup Champions are the St. Louis Blues! It was a BFD because it was the Blues' first EVER Stanley Cup in the 52-year history of the franchise. The team was led to glory by rookie goaltender Jordan Binnington, who somehow looked calm, cool and collected between the pipes despite it being his first season in the NHL. *tips hat* Other top players in the league include Sidney Crosby (Pittsburgh Penguins), Nikita Kucherov (Tampa Bay Lightning), Nathan MacKinnon (Colorado Avalanche) and Connor McDavid (Edmonton Oilers).
All my ladies, let me hear y'all!
The women's hockey scene has gotten mighty messy as of late. At the end of its 2019 season, the (CWHL) (one of two professional women's hockey leagues based in North America at the time) unexpectedly folded due to unsustainable business operations. It consisted of six teams, four based in Canada, one in the U.S., and one in China, and left a lot of female hockey stars without a team.
Then there's the (NWHL) which now has six teams with five in the US and a new expansion team in Toronto, Canada. However, in both the former CWHL and the current NWHL, players get paid next to nothing compared to their male counterparts. Most of the NWHL's players juggle full-time work and pro-hockey as the league's average salary is just $15k. To put this in perspective, the lowest amount an NHL player can get paid is $700k. Can you say #WageGap?
So in 2019, more than 200 of the world's best female hockey players joined forces to fight for change through the Professional Women's Hockey Players Association (PHWPA). They are (refusing to play) in the current professional hockey league structure with the goal of creating a viable cross-border league with better working conditions (is health insurance so much to ask?) and better pay. That means no Amanda Kessel, no Hilary Knight and no Breanna Decker to watch this season. Welp.
But, you can watch them on their this year. It's a short-term band aid but will hopefully help create a long-term solution. For now, the conversation seems to be at a standstill and the future of women's hockey hangs in a kind of uncomfortable limbo. Subscribe to The GIST and follow our social channels to stay up-to-date on more of this news.
Fun facts
The Stanley Cup was created in 1893. It was named for Lord Stanley of Preston, a Canadian Governor General.
The Pittsburgh Penguins (that's Sidney Crosby's team!) used to have a real-life penguin mascot. Pete, as he was affectionately called, was introduced in 1968 before a game against the Pennsylvania state rival Philadelphia Flyers.
There are more than 2,200 names engraved on the Stanley Cup (FYI, each team has their names engraved after winning), but only 12 women have made the cut, either as owners or team executives. Let's get to adding to this tally, shall we?
Don't get The GIST's twice-weekly newsletter yet? Let's make it email official.
⛳

Guide to Golf

March 18, 2020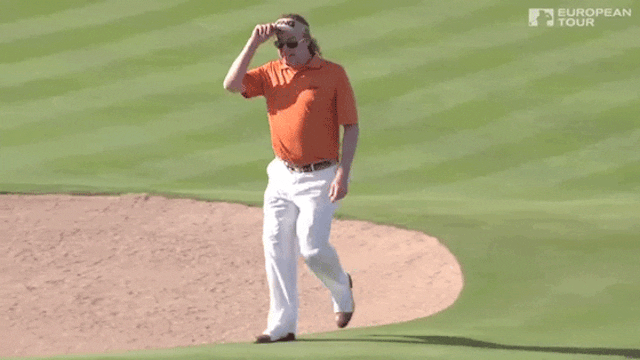 SOURCE: GIPHY.COM
The GIST
A full round of golf is 18 holes. Holes generally range from 100 to 500 yards. Unlike most other sports, the goal is to have the lowest score (counted by ) at the end of the game — meaning take the least amount of swings or putts to get the ball in the hole. Each hole on the course is given a number of strokes that it should take for a person to get the ball in the hole (this is called par) and typical championship courses have a full value of 72.
How is it organized?
Similar to tennis, men's professional golf players play in PGA (Professional Golf Association) Tour and women play in LPGA (Ladies' Professional Golf Association) tournaments. A tournament consists of four rounds of golf (one per day from Thursday until Sunday). The biggest tournaments are called major championships and in the PGA that includes the Masters, the US Open, the British Open and the PGA Championship.
Outside of the majors, there are also various other tourneys the pros can partake in. A player's world ranking is based on how they do in each tournament. The most well-known and prestigious tournament is the Masters, played in Augusta, Georgia. In addition to winning copious amounts of cash money, players also receive the (super cool to win, super impractical to wear). The Masters is unique because winners are automatically invited back to play in the tournament annually for the rest of their lives!
Golfin' greats
This isn't just your grandparents' game anymore! While golf is a sport where experience is incredibly important, the past decade has shown that you can be young and still be at the top of your game. The best golfers today include Dustin Johnson (American who is married to Wayne Gretzky's daughter, ), Rory McIlroy (Irish sweetheart), Brooks Koepka (American who won back-to-back US Open and PGA Championship tourneys) and Jordan Spieth (young American stud).
And then there's Tiger Woods. Tiger dominated the game for over a decade, winning 14 major tournaments. And then things crashed (literally) and burned for the golfing superstar. Tiger was caught cheating on his wife and Swedish model, Elin, claiming that he had a "sex addiction". More recently, Tiger was arrested in Florida in 2017 for a DUI after crashing his SUV. He has since made a rather spectacular comeback and is back to being one of the top ranked golfers in the world.
Gals who golf
It's a myth that 'golf' stands for "Gentlemen Only Ladies Forbidden", but only just barely. For decades, golf has been seen almost exclusively as a man's game, but thankfully ladies have continued to break down those barriers. Professional women play in the LPGA (Ladies PGA) which is organized similarly to the men's. Keep your eye on American sensations Nelly Korda and Danielle Kang, who remain ranked near the top of the LPGA world rankings.
In 2019, the LPGA awarded its largest ever prize ($1.5M USD) to South Korea's Sei Young Kim at the CME Group Tour Championship. That's $500k more than the previous record prize. Even though the overall prize money handed out in the LPGA pales in comparison to the PGA, there is reason for optimism. The LPGA's 2020 schedule features 32 events with record prize money and at least 500 hours of televised content. Keep making moves, ladies!
Prep for your next trivia night by making sure you know these facts:
A means you took just one stroke to get the ball all the way into the hole. Tradition says that that golfer must then buy a drink for each person in the clubhouse. But fear not, most courses have hole-in-one insurance so that you actually don't have to pay. Hilarious.
Jack Nicklaus is strongly considered the best golfer of all-time winning 18 majors, which remains the record for most ever.
Have you ever sipped on an Arnold Palmer, that delicious blend of iced tea and lemonade? Well, the drink is named after a very successful pro golfer who was known to request the combination! The late Arnold Palmer won four (!!!) Masters tournaments and seven majors over his career.
Don't get The GIST's free twice-weekly newsletter yet? Let's make it email official.