⚾
⚽
🏐
Seattle: Set fire to the rain
February 25, 2021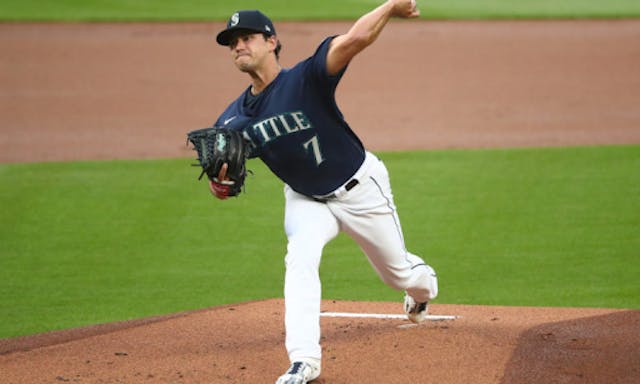 Source: Abbie Parr/Getty Images
⚾️Mariners: The inexcusable comments from now-former CEO and president Kevin Mather have left players, like top prospect Jarred Kelenic (pronounced KELL-NICK), . Apart from , Mather's comments also the Mariners organization didn't call Kelenic up to the major leagues last year to give the club more time in control over his rights.
In the words of anticipated Opening Day starting pitcher Marco Gonzales, "Sometimes a common goal can unite you, but sometimes a common enemy can do the same, if not greater." Marco, we certainly don't think you're.
We're backing the players. The Mariners organization, yet again, has a long way to go to earn back our trust.
⚽️OL Reign: Megan Rapinoe was hard at work scoring two goals and making yesterday for the USWNT, but her club team was busy this week too. On Tuesday, OL Reign acquired goalkeeper Karen Bardsley on loan from the FA WSL's Manchester City. But like Phil Jackson in The Last Dance, Bardsley has a to show us her stuff and is only staying in the PNW until June 30th.
🏐Volleyball: Don't miss the top 10 volleyball matchup between No. 9 UW and No. 7 Utah, starting tonight at 9 p.m. ET/6 p.m. PT. Look for — who had a career-high 60 assists last Friday — to keep setting the standard.
🏀
🏐
Chicago: All I need to get by
February 25, 2021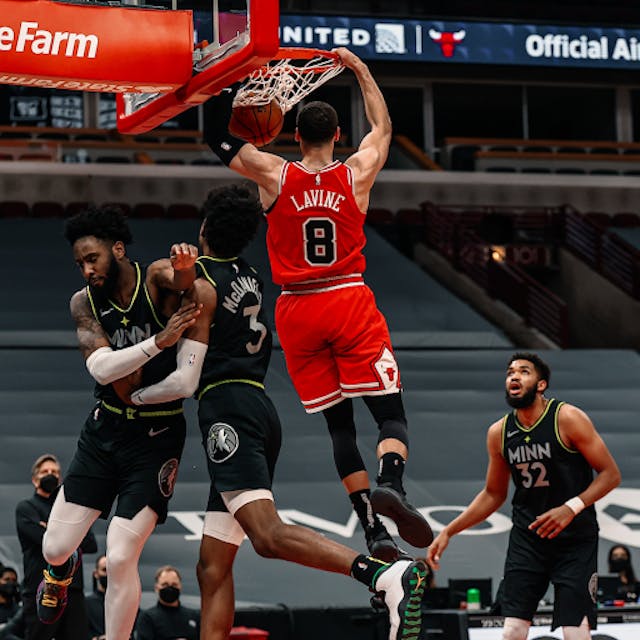 Source: Bulls/Twitter.com
🏀Bulls: The Bulls beat the Minnesota Timberwolves in overtime last night in a game that was way too close for comfort. But, thanks to guard Zach LaVine's 35 points, Chicago ground it out to capture their sixth win in the last eight games. Can you say "playoff contenders"?
🏐Irish: The No. 14-ranked Fighting Irish will take on the No. 13-ranked Lousiville Cardinals this weekend in their second match of the spring season. The Irish during their brief season this fall, so we know Louisville will be out for revenge.
Thankfully, the Irish have right side Caroline Meuth's power backing them. The sophomore had 17 kills and four blocks in the team's spring opener. Talk about a block party.
🏀
⚾
🥎
🏐
Seattle: Winning isn't easy to do
February 22, 2021
Source: Gonzaga Basketball/Twitter
🏀Men's college basketball: Top-ranked Gonzaga kept their foot on the gas on Saturday, with a 106–69 victory over San Diego. And with just two regular season contests remaining on the schedule, it seems pretty likely the 22-0 'Zags will enter the postseason undefeated. Knock on wood.
🥎🏐Huskies: The bats were for No. 2 UW softball yesterday, with the Huskies taking a 17–0 (!!!) five-inning mercy victory over Utah Valley. But the classic struggle for women's sports fans everywhere: there was no video stream of the game. Sigh.
⚾️Mariners: The Mariners are in the news for all the wrong reasons. CEO and president Kevin Mather's disparaging, shady and xenophobic recently came to light in a talk with the Bellevue Breakfast Rotary Club. Look (and hope) for the Mariners to take action on this soon. Ugh.
🏈
🏐
Philadelphia: No guts no glory
February 11, 2021
Source: PennStateVball / Twitter.com
🏈Eagles: ICYMI, QB Carson Wentz wants out of Philly, and his most likely landing spots are the Chicago Bears and the Indianapolis Colts. Da 8-8 Bears struggled at QB last season, flip-flopping all year between ex-Eagle Nick Foles and Chicagoland frenemy Mitch Trubisky, and the Colts' Philip Rivers retired after the season.
🏐Lions: The Penn State volleyball team finally kicked off their season last weekend, taking down the University of Illinois Fighting Illini in two straight matches, 3–1 and 3–2. Freshman wasted no time in her collegiate debut, notching 30 kills and 26 digs on the weekend. Get you a girl who can do both.
Now, in a battle of the undefeated, the No. 8 Nittany Lions will duke it out with the No. 5 Minnesota Golden Gophers on Saturday and Sunday. We are!
🏀
🏐
Seattle: The time of your life
February 04, 2021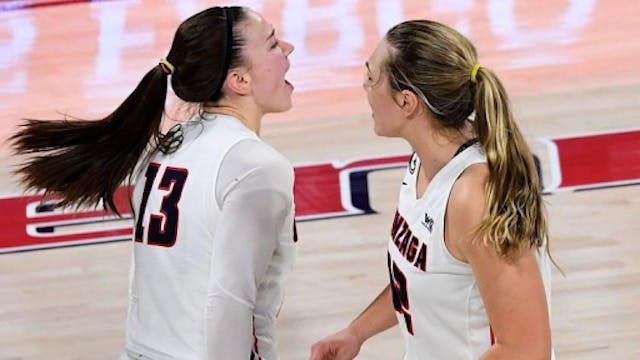 Source: Colin Mulvany/The Spokesman-Review
🏀Basketball: The No. 19 Gonzaga women had a bit of a scare on Tuesday night, just managing to hold off BYU for the 63–56 victory. Transfer guard Cierra Walker came up big in crunch time, draining in the final two minutes to seal the deal. The winning streak lives on!
🏐Volleyball: Whether you run with the Huskies or the Cougs, women's volleyball is in action for all to enjoy tonight at 9 p.m. ET/6 p.m. PT. Both squads are 3-1 and ranked in the Top 25.
No. 24 Washington State takes on a ranked opponent in No. 18 UCLA. Standout middle blocker (pronounced YA-HALA-SHA-VA), who had 11 kills and 7 blocks last Saturday, will look to continue to show off her complete game.