The GIST: From buzzer beaters to boring blowouts, the last few days of NBA playoff action have given us a little bit of everything. Time for some highlights and lowlights.
May 27, 2021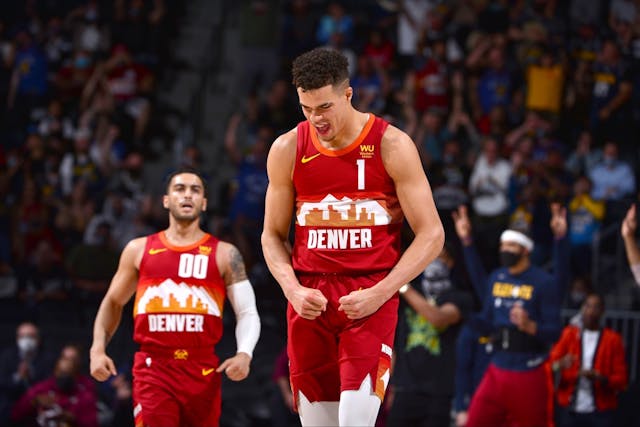 Source: Denver Nuggets/Twitter
Highlights: Sure, he scored 31 points (in just 31 minutes!) on Monday to lift his Milwaukee Bucks to a 132–98 victory over the Miami Heat (the Heat's second-largest playoff loss in franchise history...sheesh), but it's Giannis Antetokounmpo's (pronounced ah-dedo-KOON-bo) for us.
And I (alley) . LA Laker Anthony Davis connected with teammate LeBron James for during the Lakers' 109–102 win over the Phoenix Suns on Tuesday.
Lowlights: LA Clipper Paul George put Dallas Maverick Kristaps Porzingis on our lowlights reel with his fancy handles, on his way to the basket. Lucky for Porzingis, the Mavs still pulled out the win to go up 2-0 in the series.
Boston Celtics star Jayson Tatum missed the remainder of the Celtics' 130–108 loss to the Brooklyn Nets after being in the third quarter. It's all fun and games 'til...
What's next: The first of eight upcoming Game 3's tip-off tonight at 7:30 p.m. ET. .