With the Washington Football Team on a bye week, let's take a trip down memory lane to happier times.
October 29, 2020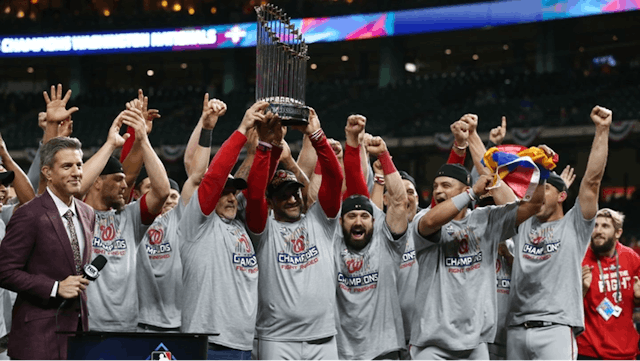 SOURCE: TROY TAORMINA/USA TODAY SPORTS
The GIST: With the Washington Football Team on a bye this week, take a walk down memory lane and reminisce about the Nationals' thrilling 2019 World Series run. Oh, happier days.
Reliving the moment: The Nats started last season poorly with the now-famous 19-31 record, before turning it around to grab a National League wild card spot. The comeback kids kept us on the edge of our seats when they staved off elimination not once, not twice, but five times in the postseason. Our nail beds are just starting to recover.
It culminated in the Nats' first World Series title, with all four wins (including an epic Game 7) happening on the road against the Houston Cheaters, er, we mean Astros. Bring back those joyous champagne-soaked times.

Unfortunately, the District was deprived of a proper World Series celebration this year at Nationals Park. Sigh.
Back to the present: After a lackluster, injury-filled, playoff-less 2020 season, the Nats are hurting. Key players from last year's title run have already departed. Others are now hitting free agency. And some players, unsurprisingly, had their option declined (where the team chose not to sign the optional years at the end of their contracts) by the Nats yesterday.
All this doom and gloom aside, with budding star left fielder Juan Soto, 2019 World Series MVP pitcher Stephen Strasburg on the mend from surgery and shortstop Trea Turner hopefully receiving an extension, fingers crossed the future is brighter.
If you're missing Nats Park, good news: it's serving as a voting center through Election Day. Head over to cast your vote!