With rapid response COVID testing more readily available, it looks like we might see Big 10 college football sooner than later.
September 14, 2020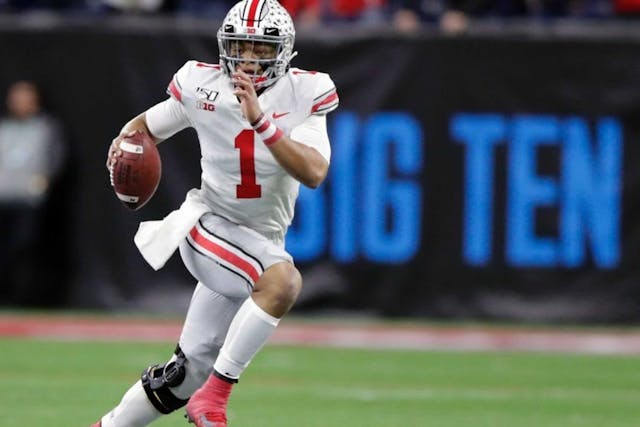 SOURCE: MICHAEL CONROY/AP
The GIST: The first weekend featuring Power Five college football action gave us some major upsets and even bigger news off the field. A team also used the mercy rule in a major blowout loss. Wild stuff.
What's the off-field news?: Chancellors and presidents from the Big Ten, which was the first Power Five conference to postpone fall sports back in August, met yesterday to discuss overturning their original decision. They'll hold a college football (yes, just football. Womp.) return-to-competition vote in the next few days. Whew, whiplash.
Will they vote for or against it?: Despite tweets from President Donald Trump pushing for a restart, we doubted the Big Ten would actually reverse their initial decision. But thanks to increased access to rapid response COVID-19 testing, it's now expected that the commissioners will likely change their minds and aim for a mid-October start date. Good luck to those schedulers!
And what about that mercy rule?: According to NCAA rules, teams are allowed to shorten the length of quarters during the game if both head coaches and the referees agree. This weekend, Pittsburgh led Austin Peay 42–0 at the half (yikes), so both teams agreed to play 10-minute quarters in the second half instead of the standard 15. Even with the shortened time, Pitt went on to win by a whopping score of 55–0 (double yikes).
And get this: this isn't the first time the mercy rule was invoked by Austin Peay. They also used it during a lopsided loss to the University of Georgia back in 2018. Can we use the mercy rule on 2020? Asking for a friend.