This week in March Madness.
March 22, 2021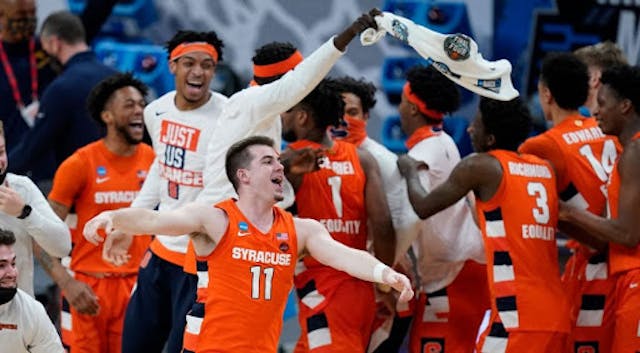 Source: Darron Cummings/AP
The GIST: The Knicks might on Lonzo Ball, the Yankees and Mets are ready to take us and Syracuse basketball is making a splash in both the men's and women's NCAA tournaments. Smell that? .
Syracuse MBB: The No. 11 seed Orange pulled out a huge upset yesterday when they beat No. 3 West Virginia. In , head coach Boeheim's was the real MVP...closely followed by Boeheim's son Buddy, who led the team with 25 points. The rest of the world is shocked, but the true fans .
Syracuse WBB: In 2019, the team took an unexpectedly early exit from the NCAA tournament after the South Dakota State Jackrabbits pulled off the upset. So when the No. 8 seed Orange were matched up with the No. 9 Jackrabbits in the first round this year, they came ready for revenge.
Our gals took off in the fourth quarter, outscoring the Jackrabbits 22–7 to finish off the 72–55 win. Five Syracuse players scored in the double digits, led by Emily Engstler with 18 points, and the squad dominated on defense with 14 blocks (!!!).
Tomorrow, the Orange will face No. 1 seed and perennial powerhouse UConn in the second round. Not, not nervous.