Can the Patriots involve Julian Edelman a little more , please?
October 22, 2020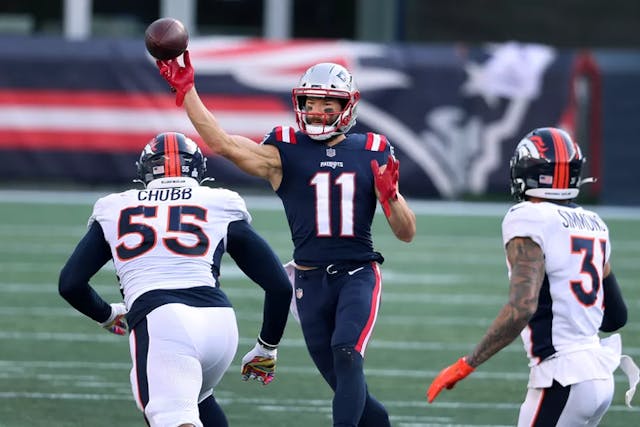 SOURCE: JIM DAVIS/THE BOSTON GLOBE VIA GETTY IMAGES
The GIST: Still sad the Red Sox traded Mookie Betts? Same. Wash away the pain with a Dunkies and dig into the Patriots' Sunday matchup.
Who are we playing?: The Pats will aim to spoil National Tight Ends Day (yes, that's actually a thing) for George Kittle and the San Francisco 49ers on Sunday at 4:25 p.m. ET. After a rough outing last week, partially due to a lack of practice, look for the Pats to improve their passing game by involving wide receivers Julian Edelman and N'Keal Harry more often.
Here's the thing: while the Pats got beaten up by COVID-19, the Niners' defense has been hit hard by injuries to its top players. It will be up to QB Cam Newton and co. to take advantage of the situation (and spoil former Patriot backup QB Jimmy Garoppolo's return to Foxboro).
How's the Pats' COVID-19 situation?: Looking better. Three players came off the reserve/COVID-19 list yesterday, and no new players were placed on it. *knocks on wood* And even though three other players returned to yesterday's practice from the injured reserve (different from the COVID-19 one), starting right tackle Jermaine Eluemunor was put on it. Two steps forward, one step back.
Anything else?: Yes actually! GISTers, we're so grateful for your support of our regional content and would love your help to make it even better by completing this v. short survey. Thanks so much!