A win would mean the Giants tie the Cowboys for top spot in NFC East
October 22, 2020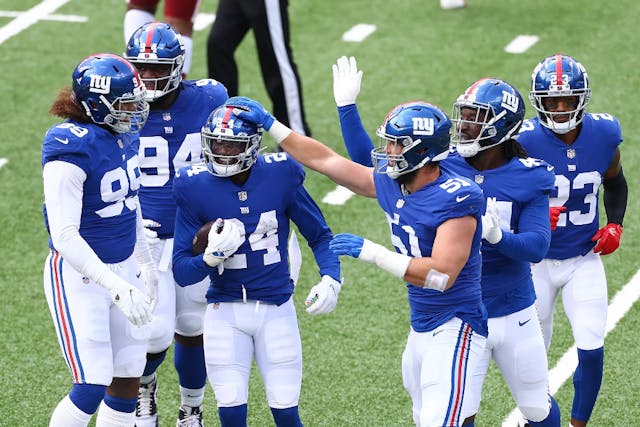 SOURCE: MIKE STOBE/GETTY IMAGES
The GIST: The Giants play the Philadelphia Eagles tonight on Thursday Night Football. Thanks to Sunday's win, if the G-men can take down the Birds, New York would tie the Dallas Cowboys for the top spot in the National Football Conference (NFC) East. 2020, you wild.
What to watch: While the Giants have their fair share of issues, the 1-4-1 Eagles have a struggling offensive line weakened further by injuries. Fortunately, this is something the G-men can take advantage of: they rank in the top 10 in sacks this season with 15.
Since New York's opponents have outscored them by 52 points overall so far this season, the game will depend on whether head coach and Philadelphia native, Joe Judge, can inspire QB Daniel Jones and the offense to put up enough points to beat the Birds.
Top of the bottom: The NFC East is by far the least competitive division in the NFL right now as the current No. 1 seed only has two wins. While tying the No. 1 Cowboys wouldn't be a huge deal, back-to-back wins could spark a significant momentum-swing for the struggling Giants. *knock on wood*
The Giants currently have a less than 10 percent chance of making the playoffs, but that's still a chance, and this win might make us start to believe this season isn't complete trash after all.
One last thing: GISTers, we're so grateful for your support of our regional content and would love your help to make it even better by completing this v. short survey. Thanks so much!