NCAA softball: No.1 Oklahoma wins WCWS championship
June 10, 2022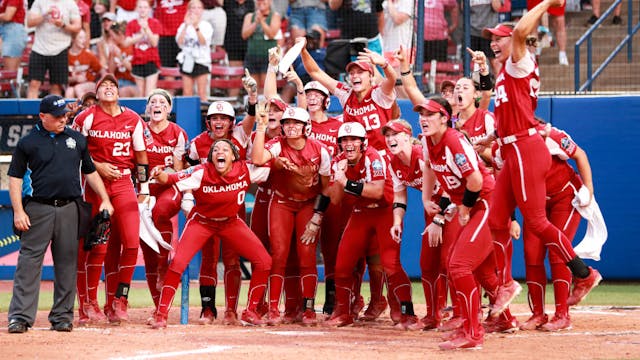 SOURCE: ISAIAH VAZQUEZ/NCAA PHOTOS VIA GETTY IMAGES
The GIST: For the second straight year (and fifth time in the last nine seasons), the No. 1 Oklahoma Sooners are your NCAA softball national champions, the final exclamation point on an incredible record-setting season. Dominant doesn't even begin to cover it.
How they did it: After throttling Texas 16–1 in Wednesday's Game 1, Oklahoma had to (briefly) battle for the title last night, rallying from a two-run deficit to take down the Longhorns 10–5 and sweep the Women's College World Series (WCWS).
The Sooners got it done with the long ball, as junior catcher Kinzie Hansen blasted a three-run homer in the fifth inning to open up the lead before senior infielder Grace Lyons added a three-run shot of her own in the sixth. Sheesh.
The Most Outstanding Player? Home run queen Jocelyn Alo, of course. Perhaps the best hitter college softball has ever seen, the two-time Player of the Year graduates with two national titles, an incredible legacy and a bright future ahead — she was the No. 1 pick in last month's Athletes Unlimited softball draft.
The bigger picture: As thrilling as the on-field action was, the off-field impact was just as exciting. Multiple record-breaking crowds took in the WCWS action, including a record 12,257 fans at last night's tilt.
Plus, the WCWS aired on ABC for the first time with Wednesday's Game 1 pulling in a whopping 1.4 million viewers. Amazing what happens when you put women's sports on TV.