Eagles turn it around in the second half to secure win over Cowboys.
November 02, 2020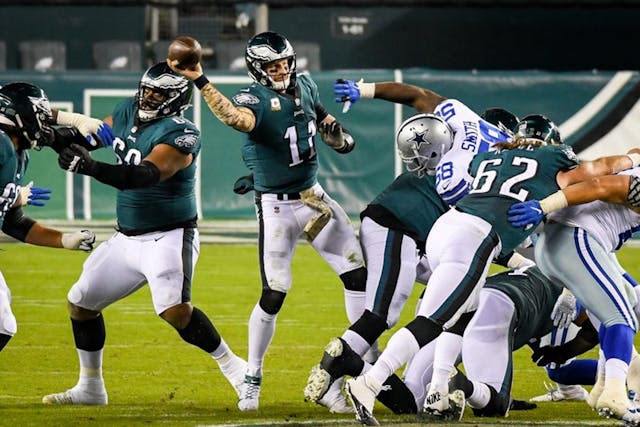 SOURCE: KATE FRESE/PHILLYVOICE
The GIST: After an underwhelming first half, the Eagles turned it around to secure the 23–9 win over the Dallas Cowboys last night. Let's fly.
Slow but steady: After nearly three quarters of turnovers leading to field goals, the Eagles finally broke through when QB Carson Wentz's favorite wide receiver (WR) Travis Fulgham snagged a TD pass to give the Birds the lead. That touchdown shifted the game's momentum; thanks to the Eagles' defensive pressure, a Dallas fumble turned into another Philly touchdown, and the Birds were able to hold the Cowboys from there.
The Eagles' third win secured their spot on top of the NFC East for at least another week and gave fans hope that the Birds will be able to execute in critical games. Finally.
Hold it down: Although this game was less than thrilling, the Eagles' defense consistently showed up to control the Cowboys' offense. Defensive end Brandon Graham played lights-out, adding another stand-out game in his 11th season with Philadelphia. With an unstable offense, it's a relief to see the defense improving and holding steady.
What comes next: The Eagles should *knock on wood* keep this momentum rolling as they head into a bye week and then a game against the very beatable New York Giants. Playoffs, is that you?