Eagles take top spot in NFC East with win over NY Giants
October 26, 2020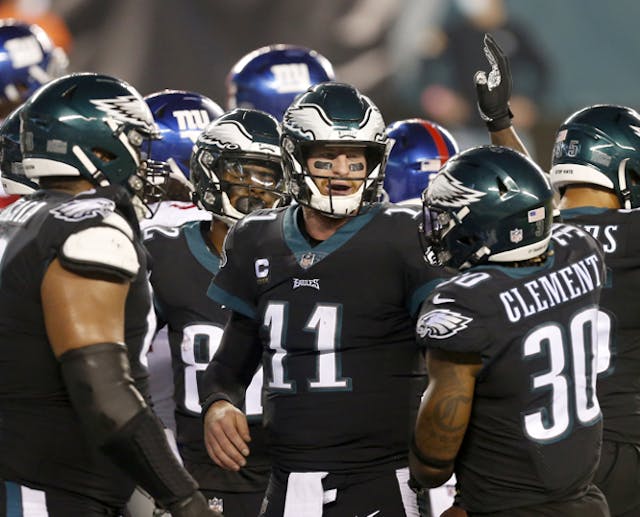 SOURCE: TIM HAWK/NJ ADVANCE MEDIA
The GIST: Still heartbroken from Penn State's loss to Indiana? Same. But cheer up, at least the Eagles are still atop the NFC East.
It's lonely at the top: ICYMI, the Eagles barely beat the NY Giants on Thursday Night Football, scoring a miraculous last-minute touchdown to steal the game from their divisional foe 22–21. Thankfully, because the NFC East is very bad, the Birds' second win of the season granted them the top spot in their division.
To earn a playoff berth, the Eagles have to either win their division or have one of the top three records in their conference. At 2-4-1, their only hope is staying in control of the NFC East.
When opportunity knocks: The NFC East is a hot mess, with three of the four teams recording only two wins each. To make matters more confusing, the Eagles have lost to the Washington Football Team (WFT) but beat the Giants, the WFT have lost to the Giants but beat the Cowboys, and the Cowboys have lost to the WFT but beat the Giants. Wild.
The Eagles will have their first chance against the Cowboys on Sunday. The Cowboys were originally projected to take the division; however, with the unfortunate loss of starting QB Dak Prescott and second-string QB Andy Dalton, the Birds are serious contenders.
With nine games left in the season, the division is anyone's to claim. Fly Eagles, fly!