The GIST: We're not the only ones still in a holiday food coma. Given the Rams' and Chargers' sloppy losses yesterday, we're convinced the boys stocked up on seconds.
November 30, 2020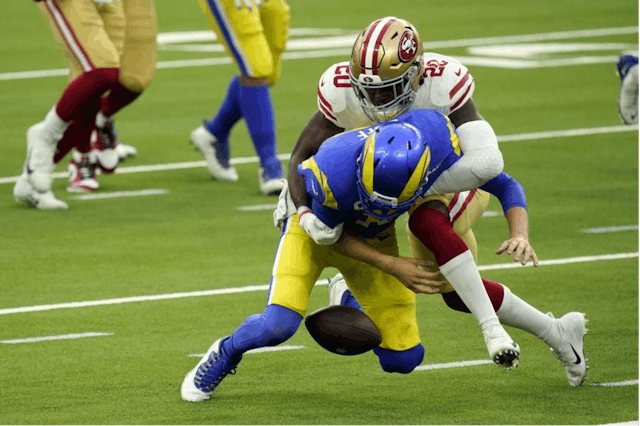 SOURCE: AP PHOTO/ALEX GALLARDO
It hurts: The Rams had a chance to solidify their place atop the National Football Conference (NFC) West with a win yesterday, but instead dropped a frustrating 23–20 affair to the last-in-the-NFC-West, and v. injured, San Francisco 49ers. Rams' QB Jared Goff had three turnovers and the offense just couldn't find ways to score early.
Although defensive tackle Aaron Donald tried to single-handedly will the Rams to victory with a forced fumble that sparked the Rams' 17 points in the second half, SF sealed the deal with a game-winning field goal.

Not only are the Rams now in a precarious position in a tightly contested NFC West, the loss marks four straight defeats for LA in the intrastate rivalry against the Niners. Ugh.
Here we go again: It bears asking every week: is it time for Chargers head coach Anthony Lynn to go? Last week, the Bolts made a coaching change at special teams (although it didn't seem to help much yesterday, as they missed yet another extra point kick...). But with Lynn's perplexing clock management decisions in the Chargers' 27–17 loss to the Buffalo Bills, we think the changes may need to go even higher up the ladder.
Still, some silver linings in the loss? Defensive end Joey Bosa's single-game career-high three sacks and RB Austin Ekeler's solid return from a hamstring injury, accruing 44 rushing and 85 passing yards. The little things.