Deshaun Watson suspended six games for violating NFL's personal conduct policy
August 03, 2022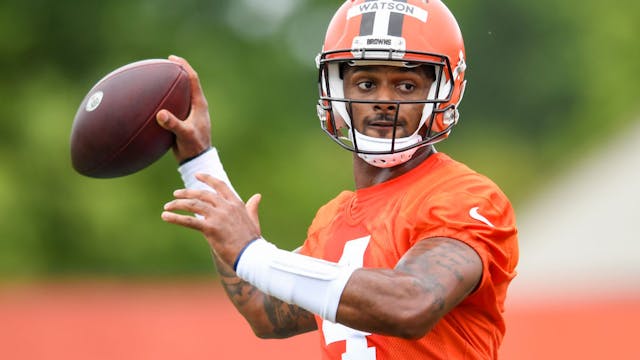 SOURCE: NICK CAMMETT/ GETTY IMAGES
Content warning: The following contains discussion of sexual violence. Take care.
The GIST: The verdict is in. As discussed on yesterday's episode of The GIST of It podcast, after multiple massage therapists accused Cleveland Browns QB Deshaun Watson of sexual assault and misconduct, he was suspended six games on Monday for violating the NFL's personal conduct policy. Yes, that's really it.
The details: Appointed by the NFL, retired federal judge Sue L. Robinson made the decision on the case, citing precedent and the fact that the sexual assault was "non-violent" as the reasoning for the short six-game suspension. Wish we were kidding.
Watson was not fined by the league and will lose out on only $345K for the missed games because of the sneaky way the Browns manipulated his contract. Notably, his $45 million signing bonus will not be impacted.
For now, Watson is still allowed to participate in all pre-season activities (including signing autographs) but can't practice for the first three weeks of the regular season.
What's next: Fortunately, the NFL — who advocated for Watson to be suspended for at least a season — can appeal Robinson's decision and have until tomorrow at 9 a.m. ET to do so. If the league does, Commissioner Goodell would become the de facto appeals officer on the case. What's the call, Roger?