The GIST: What can we say? It's mid-March, and we've got basketball on the brain. The Sky have been making some off-season moves, and the men's Battle of Illinois was a smackdown so intense, it could have come from Candace Parker.
March 22, 2021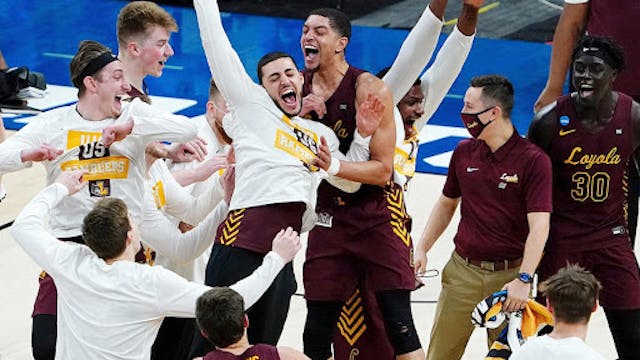 Source: CBS
🎓🏀The battle of Illinois, MBB: We're still stunned by the No. 8 Loyola Chicago Ramblers' over the U of I Fighting Illini yesterday. Despite high hopes following a stellar regular season, the Illini became the first No. 1 seed to fall — and it wasn't really even close.
Loyola led for over 38 minutes of the game and came away with a 71–58 win. Their tough defense stifled U of I's starpower, limiting superhero NBA prospect Ayo Dosunmu to only nine points.
WBB: Jumping over to the women's tournament, the No. 7 Northwestern Wildcats are ready to kick off their own March Madness run vs. the No. 10 UCF Knights. Tip off's tonight at 4 p.m. ET/3 p.m. CT.
🏀Sky: Hey Google, play "" by Kanye. After one season with the Dallas Wings, Astou Ndour is . The forward played what she says was "her best game" with the Sky during the 2018 and 2019 seasons, and she's happy to be back in the Windy City where she feels "comfortable on the court and off the court." Same, Astou, same.