Losing seasons continue for New York Football
October 26, 2020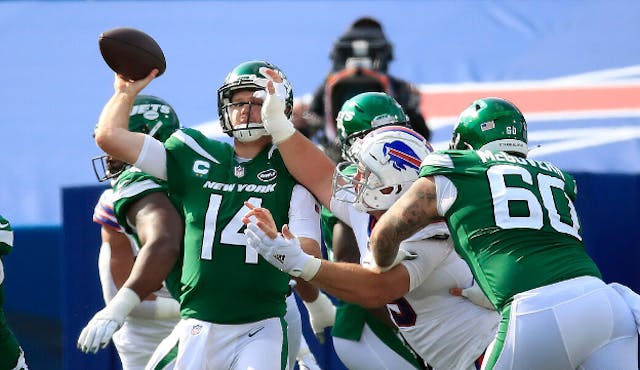 SOURCE: HARRY SCULL JR. /BUFFALO NEWS
The GIST: The Jets' winless streak continued with a loss to the Buffalo Bills this week, while the Giants' loss on Thursday shifted the team's focus from salvaging this season to rebuilding for 2021 (honestly, same). New York football is breaking more hearts than this season of The Bachelorette.
Thanks for playing: For a hot second, it looked like the Jets were going to notch their first win. QB Sam Darnold and the team snagged an early 10–0 lead and surprisingly looked like a functional football team. But it didn't last long: 18 unanswered points later, the Bills handed the Jets their seventh loss of the season. Sigh.
Even though the Jets lost, head coach Adam Gase earned some props by relinquishing his play-calling powers to offensive coordinator Dowell Loggains. We'd say the attempt to jumpstart the offense kind of worked?
Still, with a brutal schedule ahead of them, don't count on the Jets winning any time soon.
Onto the next one: ICYMI, the Giants lost 22–21 to the Philadelphia Eagles on Thursday, dropping to 1-6 and essentially ruining their playoff hopes along the way. The G-men have seemingly already started to plan for next year, trading linebacker Markus Golden back to the Arizona Cardinals in exchange for a sixth-round draft pick in 2021.
Golden was drafted by Arizona in 2015 and came to the Giants as a free agent. Consider Golden the first of many dominoes to fall.