LeBron James leads Lakers to 17th championship title
October 12, 2020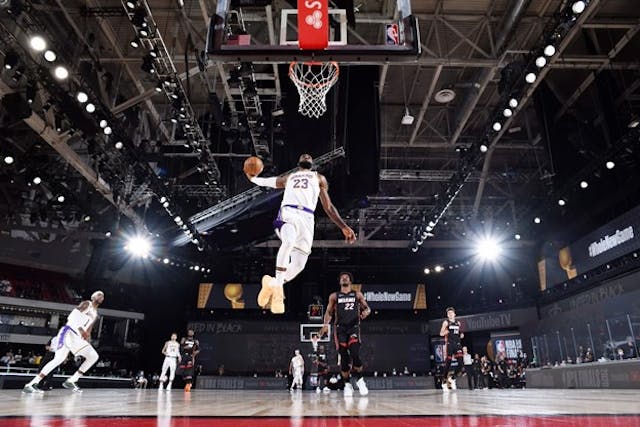 Source: Kevin O'Connor/Twitter
The GIST: The bubble champions have been crowned! With a lop-sided 106–93 Game 6 victory, the Los Angeles Lakers defeated the Miami Heat to earn their record-tying 17th (!!!) franchise NBA championship.
Wow! Tell me more: LeBron James led all scorers with 28 points in Game 6, earning his fourth career NBA title with his third team. True to his royal title, King James also posted his 11th career NBA finals . Unreal.
Unsurprisingly, LeBron was named Finals MVP, marking the fourth time he's received the honor. He's now second all-time on the list of multi-time winners, only behind Michael Jordan's six.
What did their path to the final look like?: The Lakers defeated the Portland Trail Blazers, Houston Rockets and Denver Nuggets en route to the Finals. Impressive, but we'd be remiss if we didn't mention the adversity this team overcame off the court.
In a season featuring player wildcat strikes in support of social justice, the Lakers voted to following the police shooting of unarmed Black man Jacob Blake. The vote wasn't binding, but it sent a message to NBA leaders that players wanted more action from ownership.
How about the Heat?: The Lakers dominated this series from the beginning, but the underdog Heat put up a better fight than anyone expected. With a young core of stars, including Tyler Herro (the to start in an NBA Finals), likely to return next season, we'll definitely be seeing more of the Heat in the future.
When does the next season start?: After almost 100 days in the bubble, all involved deserve a round of applause and a well-earned break. Although the NBA season typically begins in October, commissioner Adam Silver said he expects that won't begin until at least January. After such a thrilling run, we're already hungry for more!