The GIST: We're only halfway through the second round of men's tourney action and we've already seen major upsets, busted brackets...and a COVID-19-related no-contest declaration. Madness managed.
March 22, 2021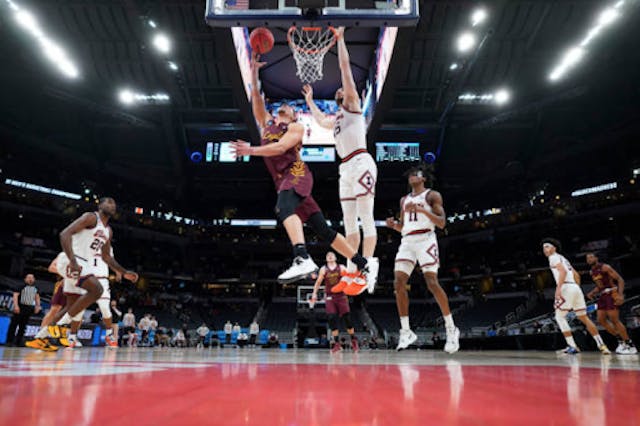 Source: Jack Dempsey/NCAA Photos via Getty Images
The upsets: Indianapolis? More like upset-tropolis. After five (!!!) top-five seeds lost in the opening round, the hits kept coming in the second round with No. 1 Illinois — a favorite to win the entire tourney — losing 71–58 in yesterday's intrastate battle to No. 8 Loyola-Chicago. .
No. 11 Syracuse joined the party, toppling No. 3 West Virginia 75–72 yesterday, clinching their 24th Sweet Sixteen appearance, and their 20th under head coach Jim Boeheim in the process. Who knew March was prime season?
And No. 15 Oral Roberts followed up their huge first round upset over No. 2 Ohio State with another, defeating No. 7 Florida 81–78 yesterday to become only the second 15-seed to make the Sweet Sixteen. We love a Cinderella story.
COVID-19: ICYMI, on Saturday, the first round matchup between No. 7 Oregon and No. 10 VCU was declared a no-contest due to COVID-19 protocols for VCU. Under the NCAA's pre-determined COVID-19 plan, Oregon automatically advanced to the next round.
What to watch: Second round action continues later today. We'll have our split screens on all day, TBH, but the game we're most excited for is the 6:10 p.m. ET matchup between No. 5 Creighton and No. 13 Ohio.
No. 12 UCSB took Creighton down to the wire in the first round, with the Bluejays pulling out a 63–62 nailbiter. Meanwhile, Ohio pulled off a huge win, defeating defending champion, and No. 4, Virginia 62–58. Upset alert, round two, baby.