U.S. Open to host golfers divided over controversial LIV Golf
June 15, 2022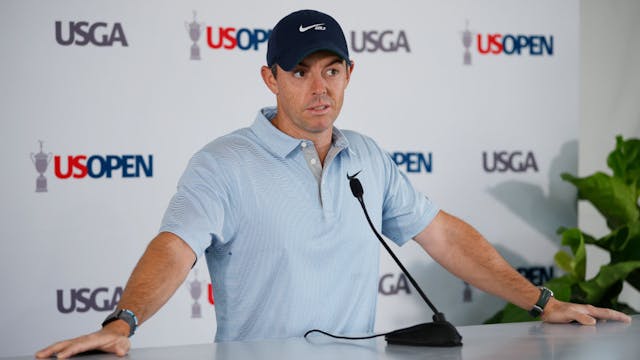 SOURCE: CLIFF HAWKINS/GETTY IMAGES
The GIST: Golf's divided factions are about to be united. Men's golf's third major of the year, the U.S. Open, tees off tomorrow with a field featuring PGA loyalists and golfers who recently defected to the controversial LIV Golf tour. We are all Marie Kondo right now.
The context: After last weekend's debut, Saudi Arabian–funded LIV Golf has continued to dominate the headlines due to accusations of sportswashing…plus some truly bonkers explanations from golfers who left the PGA Tour to compete (and make major money) with LIV.
The rift could change golf forever, especially considering the PGA recently suspended the 17 former tour players who opted to take part in LIV Golf's first event.
That said, independent bodies oversee golf's majors, not the PGA. The USGA (which manages the U.S. Open) decided last week to allow LIV golfers to compete, ensuring there'll be plenty of drama on the links this weekend.
The event: The major itself is a BFD, too. The U.S. Open awards the largest purse of all men's golf events (a $12.5M that still pales in comparison to the sums offered by LIV) and it's one of the toughest tournaments to win.
Something else to watch? The battle between recent champs. Defending champ Jon Rahm just doubled down on his allegiance to the PGA while (the not beloved) 2020 champion Bryson DeChambeau will make his LIV golf debut later this month. Spicy.
What they're saying: Four-time major champion Brooks Koepka (who has pledged loyalty to the PGA) criticized the incessant conversation about LIV as a "black cloud" over the U.S. Open, but other golfers aren't shying away from calling out the controversy.
Fresh off a win at last weekend's PGA-sponsored Canadian Open, Rory McIlroy said golfers who joined LIV "took the easy way out" while the aforementioned Rahm said that the rival tour is "not really a golf tournament." Shots fired.