DMV College Hoops
November 30, 2020
The GIST: While we're still hyped over the Washington Football Team's Thanksgiving Day victory, let's talk college hoops in the DMV. Game on!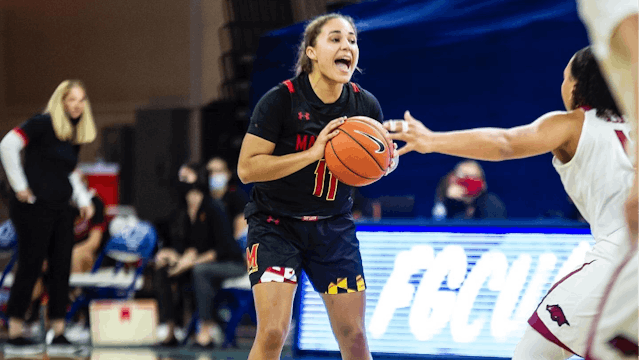 SOURCE: MARYLAND WOMEN'S BASKETBALL/TWITTER
I'm upset: The DMV's men's basketball teams were handing out upsets left and right. Yesterday, the Richmond Spiders — led by Blake Francis and Nathan Cayo grabbing 18 points apiece — downed the No. 10 Kentucky Wildcats. And in Bubbleville on Saturday, Virginia Tech gobbled up No. 3 Villanova 81–73 in OT where Keve Aluma scored a career-high 23 points and Justyn Mutts had five critical OT points, securing the Hokies' victory.
Unfortunately, No. 4 Virginia didn't fare as well. The Hoos were upset by the San Francisco Dons on Friday. Not an auspicious start for the 2019 national champs.

Here at home, George Mason beat Howard on Saturday, 84–70 in the DC Paradise Jam. The Patriots made a school record 17 (!!!) 3-pointers to win over Howard, who were without highly-touted freshman Makur Maker due to a groin injury.
Beach each, let's go get a wave: After losing to No. 24 Missouri State on Saturday down in the #BeachBubble, the No. 12 Maryland women rebounded yesterday with a huge 115–96 win over No. 14 Arkansas. Katie Benzan recorded a career-high 28 points while the team recorded its most points ever scored against a ranked opponent in program history. Heck yeah!