Lebron James will face his former team, the Heat, in the NBA Finals.
September 28, 2020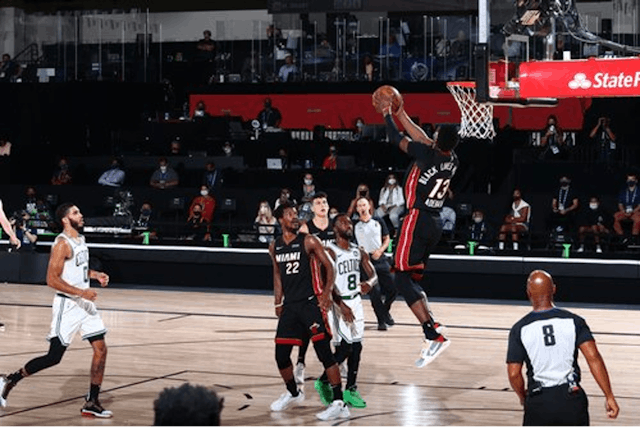 SOURCE: ESPN STATS & INFO/TWITTER
The GIST: The stage is set. The LA Lakers and Miami Heat have punched their tickets to the NBA Finals.
How'd they do it?: Heading into Game 6 of the Eastern Conference finals last night, the Heat had a 3-2 lead over the Boston Celtics. Despite a close game, the Heat were unstoppable in a wild fourth quarter, putting up 37 points to win 125–113 and snag the series and the Finals berth.
What about the West?: The LA Lakers won the Western Conference title on Saturday night after knocking out the Denver Nuggets with a 117–107 Game 5 win.
With his 10th ticket to the Finals, superstar LeBron James becomes the fourth NBA player in history to reach double digit Finals appearances, playing in 13.5% of all NBA Finals ever (or 27.8% of the NBA Finals since he's been alive). Talk about an overachiever!
What's next?: Now LeBron gets to face his former team, with whom he won two NBA Championships in 2012 and 2013. Oh, the drama! The Finals begin on Wednesday at 9 p.m. ET.
And the WNBA?: The Seattle Storm easily locked up their spot in the finals yesterday after sweeping their semifinal best-of-five series against the Minnesota Lynx. Storm legend Sue Bird put up 16 points while Storm legend-in-the-making Breanna Stewart led with 31 points in the 92–71 win. Holy.
If you're looking for more drama, the Las Vegas Aces and Connecticut Sun are bringing it to a deciding Game 5. The Aces tied up the series with an 84–75 win yesterday, so it all comes down to tomorrow night's do-or-die at 7:30 p.m. ET.