Stanley Cup Final: Lightning strikes at last
June 22, 2022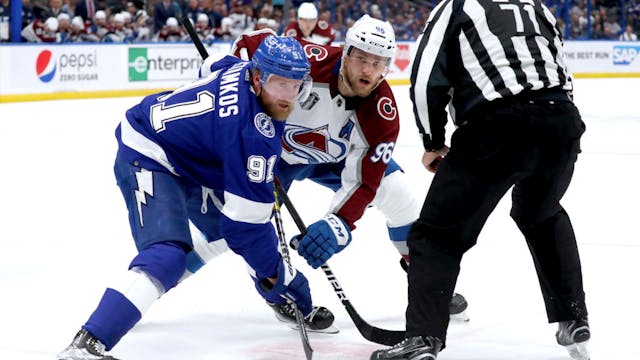 SOURCE: ELIOT J. SCHECHTER/2022 NHLI
The GIST: While some NHLers hoisted their regular-season awards last night, the Colorado Avalanche and the Tampa Bay Lightning were preparing for tonight's pivotal Game 4, fighting for their chance to lift the real prize: the Stanley Cup.
Game 3 recap: Steven Stamkos and the Lightning finally struck for their first win of the series, a come-from-behind 6–2 victory over the Avs in Tampa on Monday night. With right-winger Nikita Kucherov notching another multi-point night, the back-to-back defending champ Lightning are back in action. We have a series.
Game 4 preview: After yielding an uncharacteristic 13 goals through the first three games, expect Tampa's nearly impenetrable netminder Andrei Vasilevskiy to put on another clinic tonight, especially on home ice, where the Lightning are 8-1 throughout the playoffs.
The key to the Avs getting back to their high-scoring ways? Maybe forward Nazem Kadri, who could make his first Stanley Cup Final appearance after suffering a thumb injury in the Conference Finals. Catch the action tonight at 8 p.m. ET.