The GIST: From Friday night lights to two ranked matchups in NFL stadiums (fancy), Week 4 of college football is pulling out all the stops.
September 24, 2021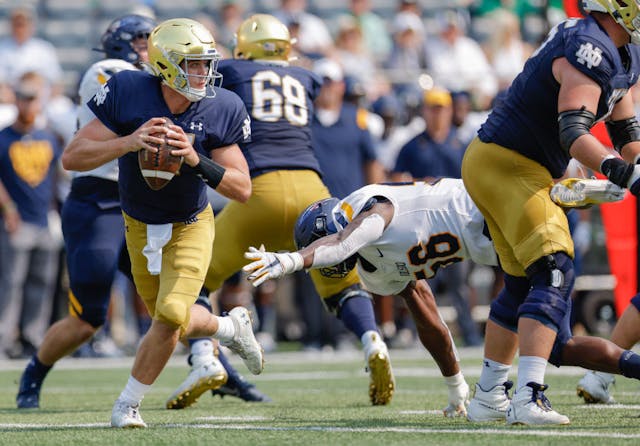 Source: Michael Hickey/Getty Images
No. 12 Notre Dame vs. No. 18 Wisconsin: If you like drama, this matchup — which kicks off from Soldier Field (home of the Chicago Bears) tomorrow at 12 p.m. ET — is the one for you. After last year, former Wisconsin quarterback Jack Coan will make his first start against his old team.
And he'll be in for a challenge, as Wisconsin's No. 2-in-the-nation defense only allowed seven points in their last game.
No. 7 Texas A&M vs. No. 16 Arkansas: The "" returns to AT&T Stadium, home of the Dallas Cowboys, this year. Why there? Well, Cowboys owner Jerry Jones played at Arkansas. No in-state loyalty here.
Although Jones hosts the game, he hasn't brought much luck to his alma mater, as Texas A&M has won the last nine meetings. Will the streak stop there? Tune in tomorrow at 3:30 p.m. ET to find out.