After delays due to COVID-19, the Patriots were finally able to take the field (with little recent practice time).
October 20, 2020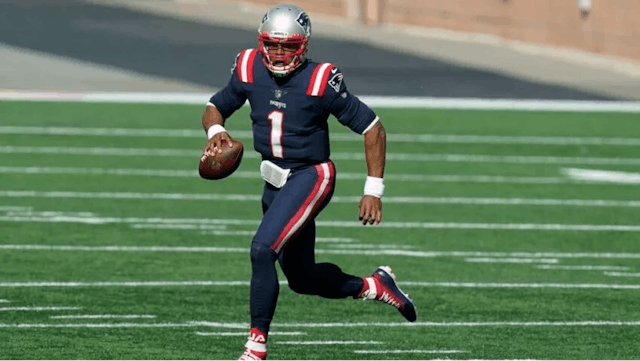 SOURCE: STEVEN SENNE/ASSOCIATED PRESS
The GIST: Surprisingly, the Patriots played a game yesterday. Unfortunately, their lack of practice was v. evident in their 18–12 loss to the Denver Broncos.
What do you mean, surprisingly?: With new COVID-19 developments, it wasn't clear if yesterday's game would even happen. The Pats shut down Friday's practice due to another positive COVID-19 test and placed three more players on the reserve/COVID-19 list on Saturday. Astonishingly (or not), the NFL didn't postpone the Pats' game for a third time against the Broncos. Play on, we guess?
How'd we look?: With very little practice over the last two weeks, pretty rusty. After falling behind 18–3 and sustaining several injuries just in the first half, the Pats attempted a comeback that included QB Cam Newton suddenly becoming a wide receiver (something the Patriots tried before...unsuccessfully).
Sadly, the Pats ultimately lost to kicker Brandon McManus a Broncos squad that scored only field goals, no TDs. Yikes.
What's next for the Pats?: The San Francisco 49ers, led by former Patriot backup QB Jimmy Garoppolo, on Sunday at 4:25 p.m. ET. Here's hoping the Pats turn things around — they're 2-3 through five games, marking their first time being under .500 since 2002. Eek.