This week from College Basketball and the Mavericks
March 22, 2021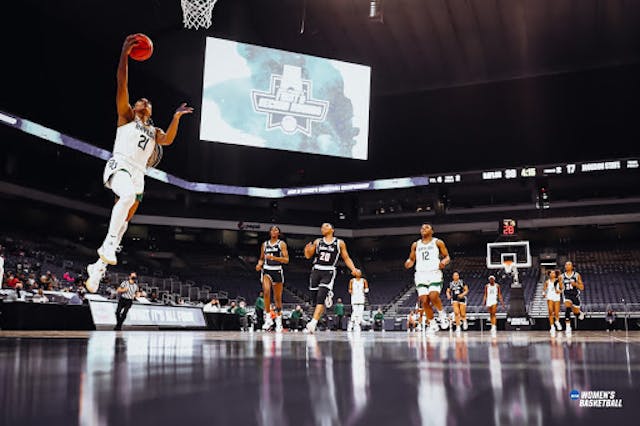 Source: NCAA WBB/Twitter
🎓🏀WBB: With the women's tourney being held in Texas, No. 2 Baylor clearly felt right at home, handling No. 15 Jackson State with ease in a 101–52 blowout yesterday. Sheesh. Meanwhile, No. 12 Stephen F. Austin nearly pulled off a first-round upset, falling 54–52 in overtime to No. 5 Georgia Tech. .
Even more Texas teams are in action today, including No. 2 Texas A&M against No. 15 Troy at 6 p.m. ET/5 p.m. CT, followed by No. 6 Texas and projected No. 1 WNBA draft pick Charli Collier vs. No. 11 Bradley at 8 p.m. ET/7 p.m. CT.
MBB: Our hometown teams provided two of the tourney's biggest upsets so far, with No. 13 North Texas pulling out a convincing 78–69 opening round win over No. 4 Purdue on Friday. But, the Mean Green sadly couldn't keep the magic going yesterday, falling 84–61 to No. 5 Villanova.
No. 14 Abilene Christian was responsible for the other upset, defeating No. 3 Texas in a 53–52 thriller on Saturday. They'll look to continue their Cinderella story in tonight's 5:15 p.m. ET/4:15 p.m. CT battle with No. 11 UCLA. No pumpkins here, please.
And in not at all surprising news, No. 1 Baylor breezed through their first two contests, punching their ticket to the oh so Sweet Sixteen. Saturday can't come soon enough.
🏀Mavericks: The Mavs rebounded from their Friday loss to the Portland Trail Blazers, earning a 132–92 win over the 'Zers last night and continuing their slow climb in the . Next up, the Mavs will face the last-place Minnesota Timberwolves Wednesday at 8 p.m. ET/7 p.m. CT. Let's keep it rolling.