The GIST: The Bears' 34–30 loss to the Detroit Lions yesterday marked their sixth straight. All we want for Christmas is a new head coach, general manager and, well, team.
December 07, 2020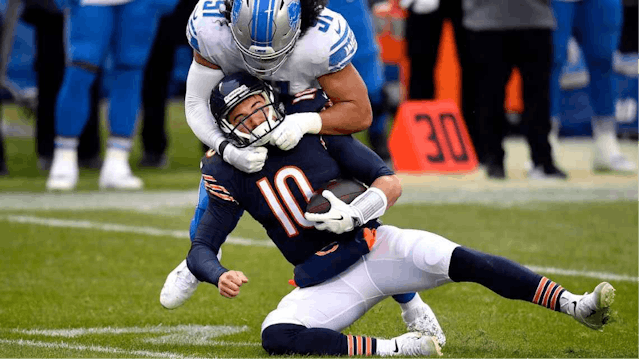 SOURCE: QUINN HARRIS/GETTY IMAGES
This one hurt: For 58 minutes of the 60-minute game, we really thought the Bears were going to win. Both the offense and defense were doing their jobs, and they looked to be in total control with a 10-point lead with fewer than ten minutes remaining. And then...
You know where this is going. The Lions marched down the field, scored a touchdown and closed the gap to three, putting the Bears' defense to shame. Soon after, disaster struck when the Lions stripped the ball from QB Mitch Trubisky on the Bears' 10-yard line, promptly scoring to take their first and final lead. Brutal.
Under pressure: A loss this embarrassing only intensifies the pressure to make serious adjustments (like, ahem, a new head coach). And with only four games remaining in the season, there's not much time left for head coach Matt Nagy to change anyone's mind. Is it time to call up some Chicagoland backup?
Speaking of the Wildcats: With the Wisconsin Badgers' loss on Saturday, the Northwestern Wildcats clinched the Big Ten West title and their spot in the championship game. Their opponent for the conference championship is still TBD, but the 'Cats sure ain't scared of no nut.