The GIST: What's that warm, fuzzy feeling? It's the return of New York basketball.
December 25, 2020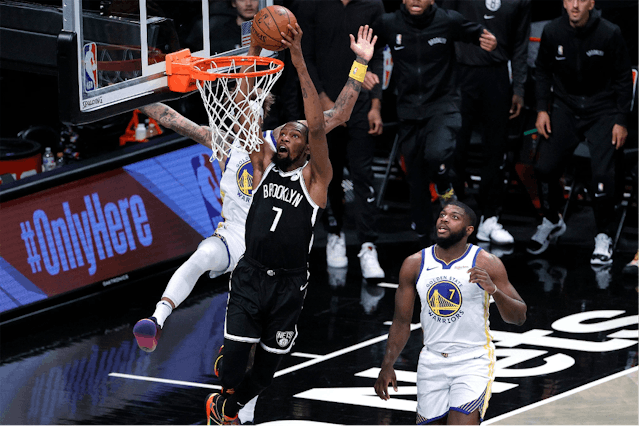 SOURCE: SARAH STIER/GETTY IMAGES
Nets: Anyone in the mood for a slushie? 7-11's are so in right now. Kevin Durant (who wears No. 7) and Kyrie Irving (who wears No. 11) were an incredible duo in the Nets' opener, scoring a combined 48 points in their 125–99 blowout of the Warriors on Tuesday. This was Durant's first official game in the Nets' uniform, and he played like the superstar Brooklyn was promised.
Knicks: The Knicks started hot and stayed close to the Indiana Pacers until New York lost its steam in the second half, allowing the Pacers to pull ahead to win 121–107. Rookies Obi Toppin and Immanuel Quickley both had disappointing debuts: Quickley's impressive start was cut short by an injured hip, and Toppin only made three of his 12 shots.
A highlight? RJ Barrett had a standout game, draining 11 of 15 shots for 26 points. It may not have been enough to bring the Knicks a win, but Barrett's future in New York is looking bright.