Eagle and Giants will battle it out for top spot in NFC East
October 22, 2020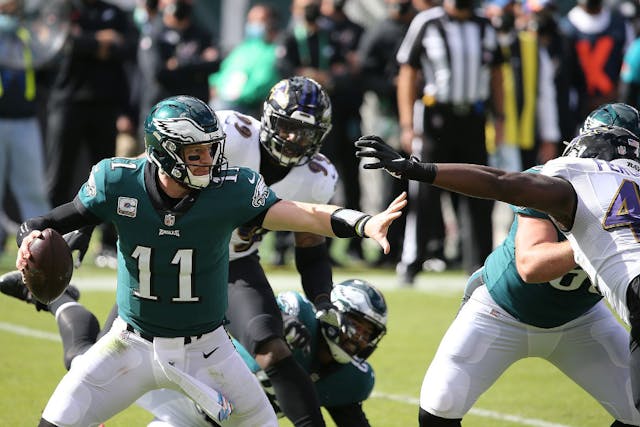 SOURCE: DAVID MAIALETTI/THE PHILADELPHIA INQUIRER
The GIST: The Eagles play the NY Giants tonight on Thursday Night Football (TNF). Even with a combined nine losses, this matchup is a battle for the top National Football Conference (NFC) East spot. 2020, you wild.
Bruised and beaten: The Birds are coming off a physically taxing game against the Baltimore Ravens on Sunday and have had little time for that much needed R&R. QB Carson Wentz took six sacks on Sunday (a lot for one game) but has to be ready to face the Giants' defense, which is very capable of powering through the Eagles' weak offensive line.
Don't expect a lot from the Eagles' offense tonight, with key players like tight end (TE) Zach Ertz and running back (RB) Miles Sanders out with injuries. While this doesn't not make us nervous, we're hopeful wide receiver (WR) DeSean Jackson, who is returning from injury after three games, will make up some of the difference.
Showing some depth: Let's not sugar coat it: the Eagles' running game has struggled this season, but RB Boston Scott and QB Jalen Hurts hope to turn that around despite a tough NY defense. Hurts has been featured sparingly to fake handoffs and move the ball down the field himself while Scott, who is filling in for Sanders, earned a career-high 59 rushing yards against the Giants last year. Let's hope he still has the G-men's number.
If the Eagles win, they'll overtake the Dallas Cowboys for the top seed in the NFC East (mind-blowing, we know). Head coach Doug Pederson is 5-0 on Thursdays in his Eagles career, so here's hoping there's more where those came from.
One last thing: GISTers, we're so grateful for your support of our regional content and would love your help to make it even better by completing this v. short survey. Thanks so much!