Say "cheese"
November 10, 2020
What would a week in the NFL be without some off-field drama and on-field shenanigans? Welcome to Week 9.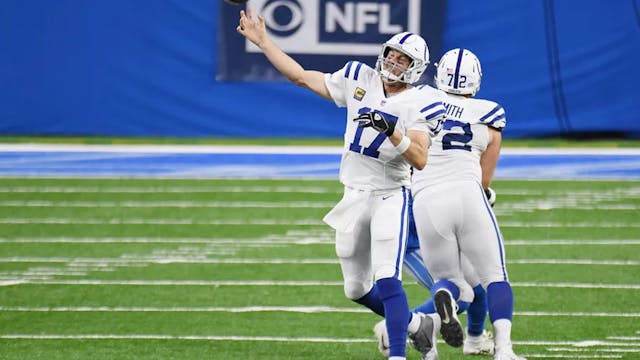 SOURCE: NIC ANTAYA/GETTY IMAGES
The GIST: What would a week in the NFL be without some off-field drama and on-field shenanigans? Welcome to Week 9.
Give me the details!: On Saturday, it was revealed that players from the league-worst New York Jets alerted the NFL Players Association (NFLPA) about secret cameras they found in their training facility locker room. The cameras were reportedly hidden in smoke detectors.
We're not totally sure what these cameras were looking for or who installed them, but the NFLPA has pledged to investigate. Meanwhile, the Jets are still searching for their first win, but likely won't find it against the New England Patriots tonight at 8:15 p.m. ET.
Anything else?: Last week the Las Vegas Raiders and head coach, Jon Gruden, were fined for repeated COVID-19 protocol violations. In addition to the fines they received earlier this season, the Raiders were docked another $500,000 and lost a 2021 sixth-round draft pick, while Gruden was fined $150,000. The Raiders, Gruden and a few players have been fined a total of $1.185 million.
BTW, this is the same team that is without right tackle Trent Brown for at least another month, due to complications from COVID-19. SMDH.
And what happened on the field?: Outside of the NFL's longest game of hot potato, it was a scary scene yesterday when Washington quarterback (QB) Kyle Allen took an awkward hit that made his ankle bend in a way that ankles should not bend. Allen was replaced with QB Alex Smith, who threw his first touchdown since suffering his own nasty leg injury (and 17 subsequent surgeries) in 2018.
Elsewhere, the Miami Dolphins defense recorded their second fumble recovery TD in two games while on their way to a wild upset win over the Arizona Cardinals; the Pittsburgh Steelers are 8-0 for the first time in franchise history; Tampa Bay Buccaneers QB Tom Brady suffered the largest loss of his career; and Indianapolis Colts QB Philip Rivers tried — and miserably failed — to make a tackle. Fun times.