After this weekend, it looks like that LA championship parade will just be for two teams.
November 02, 2020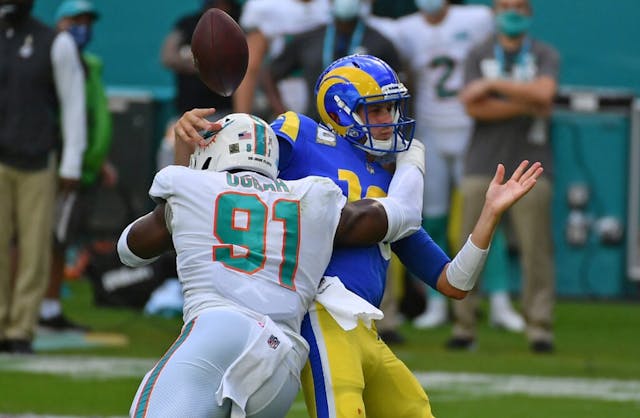 SOURCE: JAYSEN VINLOVE/USA TODAY
The GIST: We might need to bask in the glory of the Lakers and Dodgers for a while longer, because the Rams and Chargers did not play championship-worthy football yesterday.
Rammed by the Fins: Daylight saving time may have ended yesterday, but to the Rams' dismay, Tua Time just started. The Rams couldn't overcome a second-quarter onslaught from the Miami Dolphins and lost 28–17. Sigh.
Defensive tackle Aaron Donald gave the Dolphin rookie QB a "welcome to the league" moment in the first quarter that seemed like it should have set the tone for the Rams, but that wasn't the case. In actuality, QB Jared Goff couldn't withstand the pressure from the Dolphins' defense and had four turnovers.

The Rams really need next week's bye to rest and refocus, because after that, their opponent is the Seattle Seahawks. Gulp.
Charging the wrong direction: Another week, another heartbreak. The Chargers let the Denver Broncos win the game with literally no time left and squandered, you guessed it, another double-digit lead. We're tired of this and the players know it.
The bright side? QB Justin Herbert continues to shine in his stellar rookie season, but he needs help from the rest of the Bolts to break this disturbing trend against the Las Vegas Raiders on Sunday.