The GIST: College football rang in the new year in style, with two high-powered College Football Playoff (CFP) semifinal games. With the National Championship matchup now set, the dramatic season that almost never happened is in for a thrilling finale.
January 04, 2021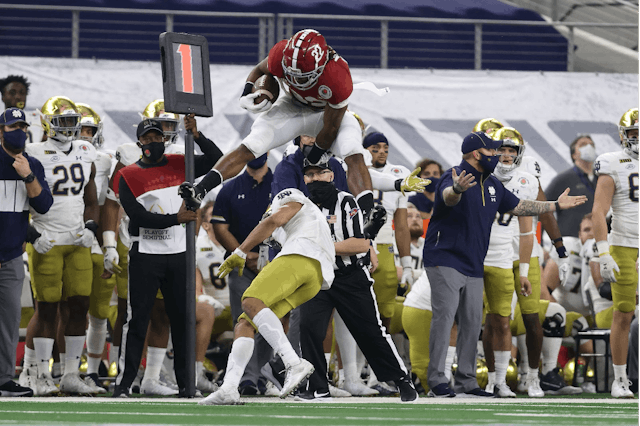 SOURCE: BLEACHER REPORT/TWITTER
Who won: No. 1 Alabama defeated No. 4 Notre Dame 31–14 on Friday to win the Rose Bowl and try for their 18th National Championship in school history. Wide receiver (WR) DeVonta Smith posted three touchdowns (TDs), but running back (RB) Najee Harris stole the show by hurdling a defender. When Megan Rapinoe asks, you deliver.
Meanwhile, No. 3 Ohio State completed a stunning 49–28 upset of No. 2 Clemson, winning the Sugar Bowl and avenging their semifinal loss to the Tigers last year. Quarterback (QB) Justin Fields put on a clinic, fighting through injury to toss six (!!!) TDs. Talk about grit.
Heisman Trophy: Alabama and Ohio State will square off in the National Championship on Monday, January 11th at 8 p.m. ET, but there's one final rose award to hand out before the big game: the prestigious Heisman Trophy. Undefeated Alabama boasts two of the four finalists, with Crimson Tide RB Harris finishing fifth in voting.
Clemson QB Trevor Lawrence was the preseason favorite to win, but we expect Alabama WR Smith to take the hardware home. Prior to his impressive CFP semifinal game (BTW, Heisman voting took place before the semis), Smith posted a whopping 17 TDs.

If our prediction holds true, Smith will be the first WR to win the award since 1991. Tune in for the virtual ceremony tomorrow at 7 p.m. ET to find out.