After a loss to the Giants, the Washington Football Team need a win next week against the Cowboys
October 20, 2020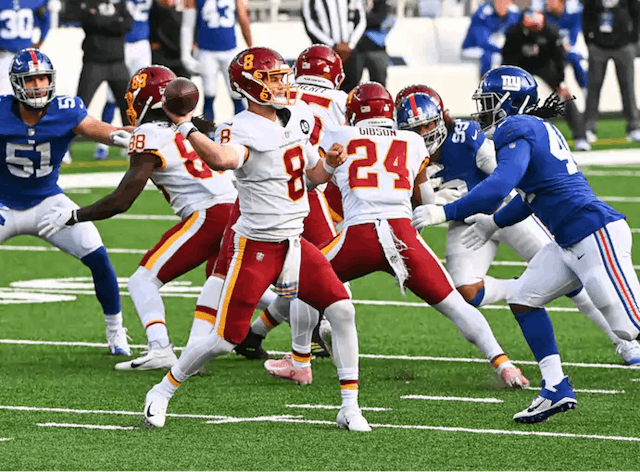 SOURCE: RICKY CARIOTI/THE WASHINGTON POST
The GIST: Washington Football Team (WFT) head coach Ron Rivera said they'd try to win now against a weak NFC (National Football Conference) East. Unfortunately, they lost to their lowly NFC East opponent NY Giants 20–19. So close.
Dare we ask what happened?: The WFT fell behind early before attempting a furious comeback. Then, Riverboat Ron was out in full force with audacious calls. After wide receiver Cam Sims scored his first NFL touchdown with less than a minute remaining in the fourth quarter, Rivera elected for the two-point conversion to win the game as opposed to kicking the easier one-point conversion to tie it. Clearly, the gamble didn't pay off. Sigh.
What else?: Besides the incomplete pass for the two-point conversion, QB Kyle Allen made an error at another crucial moment. He fumbled the football when the game was tied at 13, which led to the Giants' game-winning play. Hold onto that football like you're holding onto hope for a COVID-19 vaccine ASAP.
What's next?: The WFT need to stay aggressive and hopefully win (what a novel concept) on Sunday against another NFC East foe, the Dallas Cowboys, who are without star QB Dak Prescott. Here we go!