The GIST: It's been 84 16 years, but Phoenix Suns star Chris Paul finally made his NBA Finals debut and grabbed a win in the process. Now can CP3 and the Suns go up 2-0?
July 08, 2021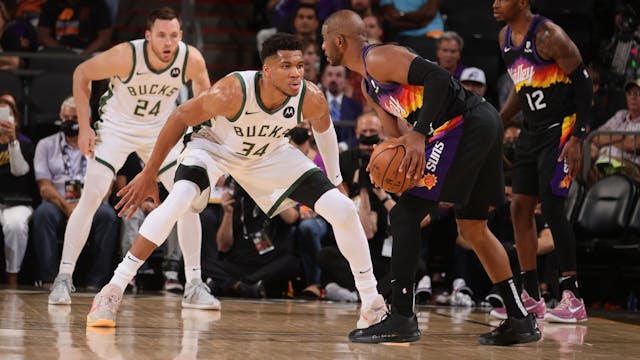 Source: NBA/Twitter
Injury background: Injuries continue to be the story of the NBA Playoffs. While Milwaukee Buck Giannis Antetokounmpo (pronounced YAHN-iss ah-dedo-KOON-bo) after hyperextending his knee in the conference finals, Suns forward Dario Šarić suffered a torn ACL in Tuesday's Game 1 and is out indefinitely. Ouch.
Game 1: Antetokounmpo's unexpected return grabbed pregame headlines, but Game 1 was all Suns. Phoenix set an NBA Finals record with 25 consecutive made free throws and Paul became the first player since Michael Jordan to notch 30 points and eight assists in a finals debut. Decent company.
Game 2: Speaking of numbers, Phoenix fans (especially ) are on another win at home tonight, but the Bucks are in familiar territory: Milwaukee dropped Game 1 in their previous two playoff matchups but went on to take the series. First step: win tonight's 9 p.m. ET Game 2, airing on ABC. Game on.