Gators' head coach Dan Mullen called for fans to "pack the Swamp", citing crowd noise as a reason for his team's recent loss.
October 15, 2020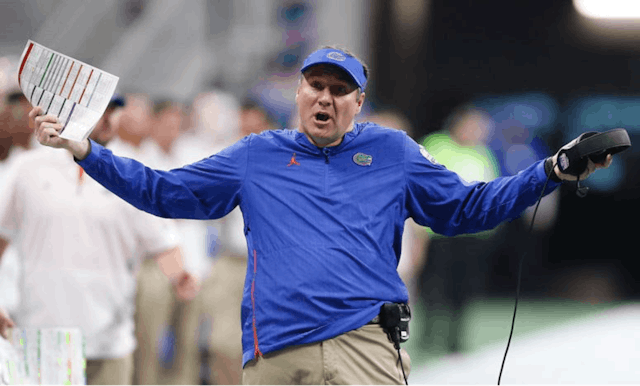 SOURCE: MIKE ZARRILLI/GETTY IMAGES
The GIST: Last weekend, Florida head coach Dan Mullen pushed for a 100% capacity crowd at this Saturday's game...the same game that was just postponed due to a spike in COVID-19 cases amongst the Gators. Life sure does come at you fast.
Damn. Tell me more: Mullen made the troubling "pack the Swamp" comments following a road loss to Texas A&M, a game played with over 24,000 fans in attendance. The Gators' coach suggested crowd noise contributed to his team's frustrating loss, leading to his v. shortsighted comments (and subsequent backtracking).
So far, 21 Florida players have tested positive. While there's a possibility the outbreak is linked to their trip to Texas, some players later revealed they were experiencing symptoms prior to Saturday's game. The audacity!
Have any other games been postponed?: Yup, Missouri vs. Vanderbilt. Fortunately, the SEC does have some scheduling flexibility, with both games being tentatively rescheduled for December 12th, a date the conference intentionally left open. But any additional postponements will make it near impossible to play the full schedule ahead of College Football Playoff Selection Day on December 20th.
I also heard a coach tested positive?: You heard right. As if the SEC wasn't already dealing with enough, Alabama head coach Nick Saban (along with Alabama's athletic director, Greg Byrne) tested positive for COVID-19 on Wednesday.
Saban's No. 2 Crimson Tide are slated to take on No. 3 Georgia this Saturday, a marquee matchup for the SEC. Remarkably, the game is still on for now, pending players' test results, so we'll see how Alabama fares without their fiery leader on the sidelines.