The GIST: More upsets, more life. Two of the top-ranked teams in women's basketball suffered their first losses of the season this past week, meaning there will likely be even more movement when the top 25 rankings are updated later today. The anticipation.
February 01, 2021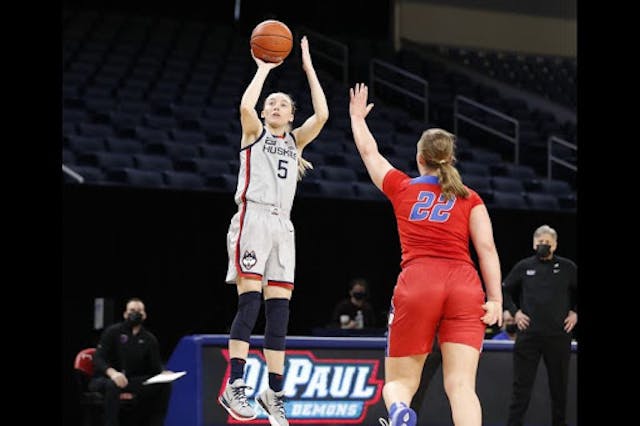 Source: Steve Woltmann/Hartford Courant
Undefeated no more: After an upset at the hands of unranked Virginia Tech last Sunday, No. 2 NC State saw their luck run out on Thursday, falling 83–71 to the still unranked Hokies in overtime. The win was Virginia Tech's highest-ranked victory in program history. Yeah, we'd say that calls for .
UConn bounce back: In more upset news, No. 3 UConn took their first L of the season on Thursday, falling 90–87 to No. 19 Arkansas. But we're sure No. 17 DePaul wasn't too happy about the loss. The Huskies have not lost back-to-back contests since March 1993 (!!!), and they kept up the tradition on Sunday, routing DePaul 100–67.
What to watch: Before tuning in for tonight's can't-miss matchup between Louisville and NC State, watch for today's to see if this will still be a showdown of the nation's top two teams. Spoiler alert: we're thinking Louisville does keep the top spot but NC State falls in the rankings, adding even more drama to this conference rivalry. Bring it on.