Eagles Look to Defend Top Spot in NFC East
October 29, 2020
Eagles to face Cowboys Sunday night.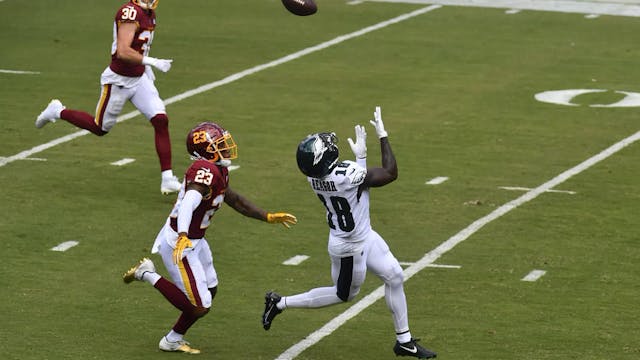 SOURCE: BRAD MILLS/USA TODAY SPORTS
The GIST: Our hearts are broken for our city right now, but we know the only way out of this is together. We are unified by so much more than we are divided. And one of the best ways The GIST knows how to unify is through sports. Let's dive in.
Fighting for first: The Eagles are well-rested and ready to defend their No. 1 ranking in the NFC East against the Dallas Cowboys on Sunday. Both squads have holes in their offensive lines due to injuries, so the difference in this game will be which offense can handle some pressure. To relieve quarterback (QB) Carson Wentz from having to throw under duress, the Eagles should leverage their running backs (RBs).
And thanks to Dallas' subpar rushing defense, the Birds' RBs should have a field day. The Cowboys are currently tied for the most runs of 20+ and 40+ yards allowed, and even if RB Miles Sanders has to sit out another week, Philly can count on Boston Scott to break through. With all of Dallas' issues right now, it's the Eagles' game to lose.
College rundown: With most college football conferences back in action, there's no shortage of games to watch this weekend. The Penn State Nittany Lions are back on Saturday to face the Ohio State Buckeyes. After last week's heartbreaker, the Lions have something to prove, and they would certainly love to prove it against their conference rivals.
Over in the AAC, the 1-2 Temple Owls will ride the Tulane Green Wave in New Orleans on Saturday. QB Anthony Russo had his best performance of the season last week but is still questionable with a possible shoulder injury. Tough looks for the struggling Owls.
Want to hear more about college football? Reply and let us know what you'd like to see out of our regional college coverage!