April 09, 2020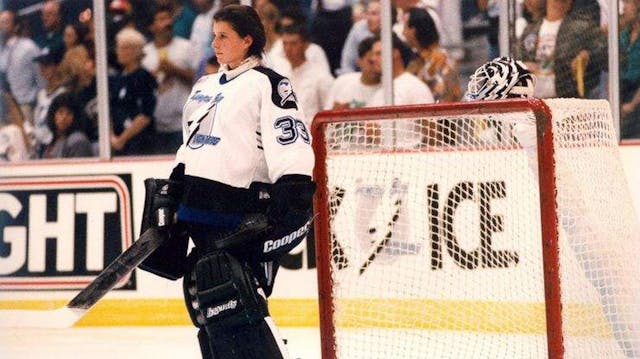 SOURCE: TAMPA BAY TIMES
The GIST: Yes. We're all distraught that the NHL playoffs didn't start yesterday. So we thought we'd help you get your fix and give you a brief history — nay, herstory — lesson on the first kickass women to have played in the NHL and in other men's professional hockey leagues.
The first woman to play in the NHL: We're taking it all the way back to a simpler time when Wayne's World topped the movies charts (party time, excellent!) and Billy Ray Cyrus had an achy breaky heart. In 1992, Canadian goaltender Manon Rhéaume (pronounced RAY-OHM) became not only the first woman to try out for an NHL team, but also to play in an NHL game, 'tending for the Tampa Bay Lightning in an exhibition game against the St. Louis Blues.
No woman has played in the NHL since, partly because the women's game has since gained more international support (women's hockey became an Olympic sport only in 1998...seriously) and now has pro leagues of its own.
The first position players to play men's professional hockey: From 2002 to 2004, Canadian forward Hayley Wickenheiser — the woman, the myth, the legend — became the first female position player (aka non-goalie) to play men's pro hockey, suiting up for HC Salamat in Finland. And, in classic Wick fashion, she killed it. In 2003, she became the first woman to score in a men's professional league game, eventually recording two goals and 10 assists in 23 games that season.
Meanwhile, in 2004, American defender and trailblazer Angela Ruggiero became the first female position player to play men's pro hockey in North America, taking the ice for the Tulsa Oilers in the now defunct Central Hockey League. Fun fact: she played alongside her brother Bill, and the pair are in the Hockey Hall of Fame as the first brother-sister duo to play pro hockey together. Cute!