This week in March Madness and the NBA.
March 22, 2021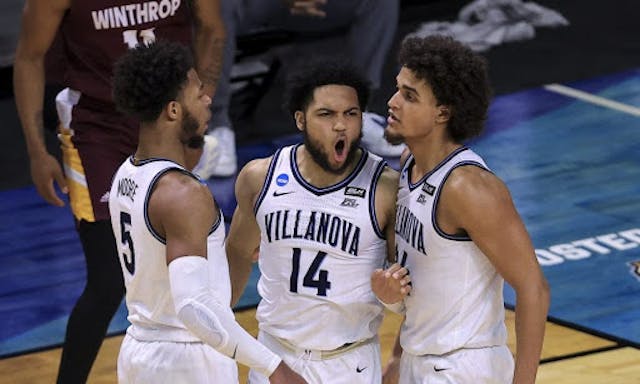 Source: Skip Snow/USA Today
🎓🏀MBB: Thanks to co-Big East Player of the Year Jeremiah Robinson-Earl and the Wildcats' strong defense, No. 5 Villanova danced past the No. 12 Winthrop Eagles in the first round on Friday. That'll show 'em to .
And the good times kept rolling last night when 'Nova trounced the North Texas Mean Green , booking their ticket to the Sweet Sixteen. The Mean Green briefly led in the first half, but the Wildcats then went on a breathtaking 34–6 run and never slowed down. Not so mean now, huh?
Next, they'll hunt for an upset vs. No. 1 seed Baylor on Saturday. Get hyped.
WBB: Down in San Antonio, No. 14 Drexel has their first test against the No. 3 Georgia Bulldogs at 12 p.m. ET today. While you tune in during lunch, look for the Dragons' top scorers, Hannah Nihill and Keishana Washington, to lead the quest for their own upset.
🏀76ers: The Sixers put us through a nail-biter last night, eking out a over the NY Knicks. BRB, trying to stop our hearts from pounding.
With Joel Embiid and Seth Curry still out with injuries and Ben Simmons just returning from one, we were nervous to take on the surging Knicks. But Shake Milton and Tobias Harris stepped up in a big way with 21 and 20 points, respectively.
We also had no reason to worry about Simmons, who played 37 minutes and finished with 16 points and 8 rebounds. .